Nu Finish Car Polish


Understanding Car Wax, Car Sealant, Car Polish




Despite being labeled incorrectly, Nu Finish Car Polish remains as a very popular choice in car paint protection. Not only is NuFinish not a car polish, but is not a car wax either!
Based on my professional experience, most people do not understand the differences with much of the car care terminology when it comes to such things as wax, sealants, and polishes. With better understanding, you will not only be in a better position to make more informed buying decisions, but find yourself with the right product for the job.
The Car Polish That Isn't
Unfortunately, the industry is filled with much bad information and incorrect terminology, and Nu Finish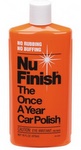 simply represents a shining example of this. The problem really stems from an ignorant consumer base with the industry merely following along by not wanting to "reinvent the wheel" as the adage goes.
If society already thinks it needs a car polish, and society doesn't really know the difference anyways, big business is simply going to give the people what they want! This is the way it has always been, and the car care industry is no different.
Nu Finish Car Polish:

Keeping it Simple
I can tell you from first hand experience that NuFinish is a good product and delivers on expectations. I have also read many positive reviews that back this up.
And the simple answer is that if you want to keep things super simple, you needn't look any further than Nu Finish car polish as an answer to protecting and enhancing your cars paint finish.

What I can also tell you is that you have choices, and if you are looking to get superior results in the overall user experience as well as product performance, you have come searching in the right place!
Question and Answer with the Expert
The following Q.and A. session will not only leave you with more information than most "professional detailers" I come across here in southern California, but will help you become part of a select group of consumers called the informed!
Q.- Darren, how is it that Nu Finish is neither a car polish or car wax?
A.- For a product to be correctly labeled as a polish, it requires some form of abrasives as part of the ingredient list. For a product to be correctly labeled as a car wax, it must have some form of natural wax ingredient; Nu Finish car polish has neither abrasives or wax. Nu Finish should be labeled as a car paint sealant or sealer, as it is made using 100% synthetic ingredients.
Q. Darren, what is the difference between a car wax and a car paint sealant?
A- Before we get too deep into this answer, just know that the industry is constantly changing the rules and terminology. With this understanding, I can lay out the most accepted rules of the industry by saying that car waxes as a rule, will be made of natural ingredients. (Brazilian carnauba wax is the most popular) Synthetic sealants are made using synthetic ingredients. (If it helps; it is like comparing traditional car oil to synthetic car oil)

Q.- Darren, why would I want a sealant over a car wax product?
A.- Depends. If you are looking for the ultimate in protection and durability, then a 100% synthetic sealant is the place to go. No car wax product will last as long as a quality synthetic sealant. So if you are looking for ways to wax less often, rather than more often, then a car paint sealant is your answer.
Q.- O.K. Darren, we get that NuFinish is incorrectly labeled, but does it work?
A.- Yes. As I have stated, Nu Finish is a good product, is easy to get, and provides a decent user experience.
Getting Professional Results

Despite the over-abundance of great reviews of the Nu Finish car polish, what the reviews or labeling doesn't tell you is how to take your car paint to the next level prior to using the Nu Finish polish.
And that is where the clay bar comes in. Prior to any waxing or polishing of your cars paint, you need to prepare the surface by removing the air borne contaminants that will collect and begin to etch into your car paint.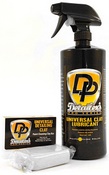 If you are not familiar with the clay bar or detailing clay, (one in the same) you are in for a real treat! This tool of the trade will raise both the user experience of any product, and increase performance of any product by creating the optimum surface prior to application. If you need further understanding on this unique tool of the trade, visit my comprehensive Q. and A. page on detailing clay.
Professional Alternatives to Nu Finish Car Polish
Once you have prepared the surface of your car paint, it is time to apply your choice in a car wax or car paint sealant. And in the event you came here looking for any Nu Finish car polish alternatives, I am going to lay out a couple of my top rated picks for you.



Meguiar's G18216 Ultimate Liquid Wax - 16 oz.
Top rated synthetic car "wax" from a trusted name.
Another way to keep things super simple!
Twice as many reviews in Amazon than that of Nu Finish.
Nu Finish Car Polish Alternative:

Having it all!
Due to advances in chemical engineering, we are closer than ever to having "it all". A single product that has all the winning benefits with no down side. As a general rule, anyone with serious experience can tell you that synthetic sealants are the place for ultimate protection and durability, and that a natural carnauba based paste wax will be the place to go for the ultimate in visual enhancement, depth creation, and hiding capabilities.
But what if you could have it all?


Meguiar's G18211 Ultimate Paste Wax - 11 oz.
One of my favorite paste "waxes".
Another top rated car wax from the trusted name of Meguiar's.
If I had to live with a single product to both protect and enhance my car paint, I could easily choose this one product.

An actual product that I prefer and recommend over Nu Finish.

Nu Finish Car Polish Summary
You now know more than most of the so-called professional detailers I come across in my travels around Orange County, CA. Most professional detailers around here are nothing more than glorified mobile car washers at best.
I hope you now understand the differences in car paint sealants and car waxes, as well as realize the choices you now have as a results of advances in manufacturing and chemical engineering.
Sincerely,


"Serving Orange County, CA for Over 25 Years"
Home | About | About This Site | Privacy Policy | Contact
Home

›
Car Wax Ratings
› Nu Finish Car Polish