Removing Decals
There is always more to it than you think!


Removing decals might seem like a straight forward and simple task to the casual observer. With an endless array of vinyl graphics and sticks that can be found on vehicles, many people find themselves faced with the challenge to remove decals.
This can be to either replace an old decal with a new one, or to simply remove the existing decal that is either unwanted or has become old and worn out.

Like everything else in life, decals are not all created equal. With that being said, the decal removal process can be reduced down to 4 essential steps of the process for virtually every decal removal project.
The Many Shapes and Sizes
With modern advances in production, vehicle wraps and decals are only limited by one's imagination. Just a few years ago, advertising on vehicles was limited to single color, vinyl graphics.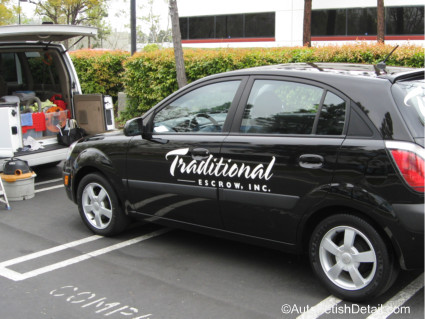 Traditional die-cut car decals used on company vehicles for advertising
Now days, the industry has taken digital full color capabilities and applied it to the industry with what is called full vehicle wraps where literally, the entire vehicle can be "wrapped" in full color graphics. Now vehicles of every imaginable shape and size can become rolling billboards.
What Goes on, Often Must Come Off
Removing decals is becoming more and more a problem for people and companies looking to update new logos or advertising.
Many vehicle decal removal jobs can be performed by the Do-It-Yourselfer. My years of experience has taught me a few things along the way that can make your job of removing car decals less of a nightmare!

Company car with many die-cut vinyl decals to be removed.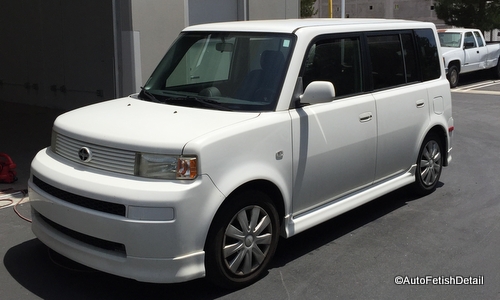 The finished product with all company decals being removed.
The Decal Removal Process
Regardless of the type of car emblems or vehicle decals you are removing, the process is always the same:
Removal of top material layer
Removal of underlying adhesive glue
Removal of adhesive glue residue
Repair or polishing of abraded underlying material
Removing vinyl decals or vehicle wraps can be broken down into those (4) steps. The same steps necessary in also removing car emblems and badges.

Removal of Top Layer
The top layer will be your first move in removing decals from your vehicle.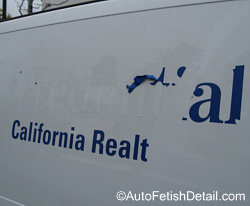 If the decals for removal are new and have not been in place for a particularly long time, it is possible to simply pick up an edge and peel the decal off.
Removing New Decals
The above video shows how easily a brand new decal can be removed.

If you watch the above video you can see how easily the new decal from the truck was able to be removed. If given the choice, removing decals from any vehicle is best when they are brand new.
But removing decals are often a forced requirement due to the aging process rather than a deliberate choice as represented with the truck owner in the above video.
Using Heat Gun to Remove Decals
Most people will come to this page already having heard of using a heat gun to remove decals of any kind.
While this way is often effective if the decal has not degrading past the point of no return, it is still very time consuming and limited to decals that can be heated up and remain intact so that you are able to peel the decal off once the adhesive of the deal itself has been heated up where it begins to release from the surface the decal is stuck to.
You can see me using the heat gun in the above video.
If the decal to be removed appears to have no cracking what so ever to it, then the heat gun will likely prove the first choice for most people.
With that said, as a professional, I know I can speed the process up using one of the many types of decal removal tools available.
Removing Decals the Quick and Easy Way
Since most of you will be faced with removing decals that have been in place for long periods of time, there is a straight forward way in which to safely remove decals from virtually any surface using the various types of decal removal tools.

In the video above I use both the heat gun and the 3M Eraser tool to remove double-sided tape.

The above video shows me using the 3M Eraser tool to remove decals from this RV.

The above video shows me using 3M Eraser tool on extremely difficult chrome die-cut decals. These are a nightmare and absolutely requires the use of an eraser tool.

Removing Decals:

Tools for Success
See the list of tools below that you can get from Amazon if you decide to take on the decal removal process yourself.



3M Stripe Off Wheel 07498, 4" Diameter x 5/8" Width, 3/8" Mandrel, Beige (Pack of 1)
The 3M Eraser tool above is the exact decal removal tool I have been using since day one. I have tried others, but keep coming back to this one.



AES Industries 51823 4" Smart Eraser Pad with Drill Adapter Arbor (Made in USA)
Since many people here like yourself will simply be attempting to tackle a single decal removal job unlike myself in removing decals on a regular basis, I offer this alternative to the 3M eraser tool above. This version is far less expensive and has great reviews on Amazon.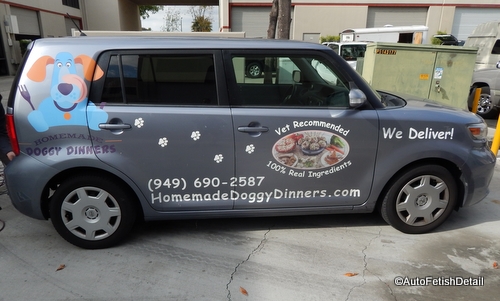 Removing vehicle decals: before shot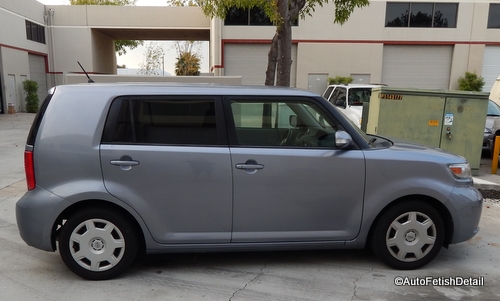 Removing vehicle decals: after shot
Just When You Think You're Done...

you're not!
Residual adhesive that needs removing once the vinyl decal has been removed.
You can see in the picture above that once the top vinyl decal has been removed, there is both an outline and residual adhesive that must now be removed.

One of the many critical things we have learned is that no magic decal remover exists that you can simply spray, and wipe off!
Whther you are removing die-cut individual decals, to a parking permit, to a full vehicle wrap, there is always going to be some adhesive left behind once the tops layer has been removed.
And this doesn't matter how you are removing decals; there is always some adhesive left over.
Adhesive Remover

Once again like every other part of life, not all adhesive removers are created equal. I have tried many and offer up only two products.



RAPID REMOVER Adhesive Remover for Vinyl Wraps Graphics Decals Stripes 32oz Sprayer
As I have said, I have tried many types of adhesive removers that will always be a must when removing decals for the underlying adhesive. But ultimately I just haven't found one with all the winning benefits of the Rapid Remover:
Non-toxic (no harsh or dangerous chemicals)

Water-soluble (This is especially helpful)
Simply works better than any of the others I have tried
Also an amazing grease cutter that I can use on fabrics, cloth, carpeting, etc.


Goof Off FG653 Professional Strength Remover, Pourable 16-Ounce
Goof-Off is widely known and has great reviews. But despite its effectiveness on many materials, when it comes to car paint and areas that are of great concern, I prefer the Rapid Remover above.
Darren's Tips: Most tutorials on removing decals will forget one last critical step that many of you will face once you think you have safely and successfully removed the decals from your vehicle:
During the adhesive removal process, often you will create abrasions on the paint surface through hasty and aggressive rubbing in trying to remove the last bit of adhesive.
For this reason I am adding this link to my other site that is designed with the absolute beginner in mind when trying to polish your car. It is called Polish Cars
Last Words of Advice
Removing decals is an undertaking many people are willing to try. Unfortunately, the job can get out of hand quickly, or many will not take the removing decals process to completion. I hope these steps will help you get the professional results you are after. The biggest problems I see out there with removing decals is these 2 areas:
People getting impatient and rush the removal process using damaging techniques.
People not realizing the abrasions created and therefore neglecting the final step of polishing.
I hope this page will help you remove the decals from whatever you are removing them from.
"Serving Orange County, CA for Over 25 Years"
Home | About | About This Site | Privacy Policy | Contact
Home

>>
How To
> Removing Decals