RV Cleaning Tips

Expert tips for easier RV ownership
RV cleaning is no fun for any of us!

These big ticket items also come with big needs of care and maintenance. While in many ways RV's can be treated like over-sized cars with regards to cleaning and detailing, the biggest factor is the enormous size of RV's!

The size of your RV will be enough of an obstacle to delay and defer all the many levels of cleaning, washing, polishing, and waxing your RV will need. Likely you RV is in need of a healthy amount of cleaning and washing at a minimum already.
For many, the two best days with your RV is the first day you get it, and the day you sale it!
This page is dedicated to making the time in between a little less painful and more enjoyable. Every project of RV cleaning and detailing can be made simpler and easier if you pick the right tools, find the right products, and use the right techniques.

RV Cleaning Tips and Resources
Having worked on hundreds of RV's, Motorhomes, Motor Coaches, and Toy Haulers over the past thirty-plus years, I want to share some of the useful RV cleaning and maintenance tips I learned and developed along the way to make me more efficient, effective, and profitable as a professional.
Cleaning and detailing tips that will help you achieve professional level results while making your life with your RV a little more enjoyable.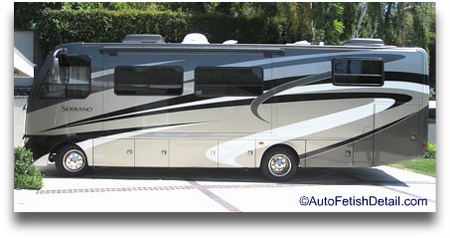 Just like your car, RV's of all kinds need the same basic requirements of care and cleaning.

They need regular washing; dirt and sun are the biggest enemies.
They all need some form of protection from the elements in the form of waxes or sealants.
The bigger challenge next to the size of RV's is the many types of materials used in constructing RV's. From full-body painted RV's, to gel coat, to fiberglass, to vinyl decals, etc., etc.
Unless you have a full-body paint RV, your challenges with RV cleaning will require more work, more products, and more strategy. The majority of people simply do not have the money to enter the world of the high-end, diesel pushing RV's that typically come with a massive price tag, but also come with full body paint.
RV Washing:

The Necessary Evil
Just like your car, washing your RV is a necessary evil. While there are many people who consider washing there car for a few hours on the weekend is a form of therapy, the size of most RV's will suck that idea right out of most people.
But if we can equip you with the right products and tools, you might just find yourself a little more willing to go out and take on that beast!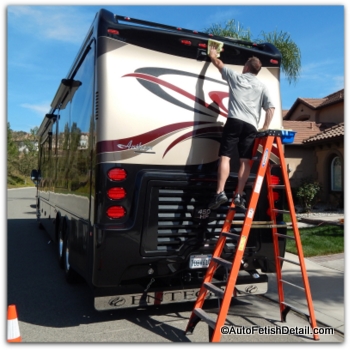 As any RV-er knows, these "toys" are big! RV cleaning in the best of cases is difficult. I want to show you how to make your RV duties less-hard, not more-hard.
Before I take you into the specific products and techniques I recommend in cleaning your RV, I want to lay down some basic tips as a starting point:
Dirt and sun are your RV's worst enemies (the same holds true for your car. Washing and waxing regularly is a good thing)

It is very possible to break your RV down into sections and tackle these sections individually, on different days (it is easy to become overwhelmed at the thought of cleaning or washing your RV in a single day)

What is up, must come down (if you are going to wash the roof of your RV, any chemical, along with the dirt is going to naturally come down onto the sides of your RV. This simply means you need to be mindful of managing the dirt and chemicals as you work)

NEVER hose off your RV with regular municipal water and allow to drip dry (water spotting can become permanent and represents a greater threat to your RV than simply allowing ti to remain dirty)
Virtually any car care product can be used on your RV (despite the hundreds of dedicated RV and marine products, you can use virtually all your car care products on your RV just as you would on your car)
Many new RV owners have seriously unrealistic expectations of their RV's at the beginning during that "honeymoon phase" (these "toys" are big. And despite your best intentions, the love affair fades quickly. So adopting more realistic expectations at the beginning will save you lots of grief)
RV Cleaning and Washing Tips

If your RV is in good to excellent condition, you don't have to over-think the type of wash shampoo. But RV's are big, and RV cleaning and washing is not like washing your car.
While you could realistically wash your RV just like your car so long as you had a ladder, you could do this and I have done this myself. But showing you the tools and products to keep you on the ground will be the best way for most of you.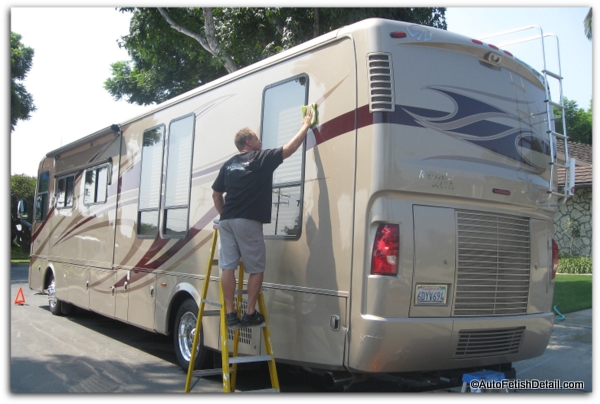 RV Washing Brush and Extension Pole:
w/ hose attachment

Either of these wash brushes are built with the ability to attach your garden hose at the end of the extension pole allowing water directly at the washing head. This can be very useful in many ways, but it can also make working your way around during the RV cleaning more cumbersome as you drag a hose, filled with water around your RV.
Only you can decide what system of RV washing you adopt. Just know that these recommendations of RV cleaning tools can be used either with or without your hose attached and make great RV washing brushes either way.



Carrand 93072 Flow-Thru 10" Quad Brush with 71" Aluminum Extension Handle
Brush head has bristles that surround entire head

Super soft bristles that are both effective and safe
Attach your hose to this extension pole and you are set with the most efficient RV cleaning wash brush and water hose attachment
Long bristles will also make your life easier as you are washing around your window frames that typically have slightly recessed windows (RV's have endless nuances to wash and clean around and this brush is a winner!)



Garage Monkey Engineering Scrub Brush for Washing Cars, Trucks, RVs, Homes | Long Handle, Adjustable Telescopic Pole, Heavy-Duty Wide Bristle Head | Flow Through, Dip Cleaning | Exterior
Another winning wash brush and extension pole combo
Accessories to attach a traditional garden hose to
Use with out without hose as your water source
Darren's Tips: I prefer both these RV washing brushes due to the bristles that surround the entire washing head. If you have yet to experience the fun of RV cleaning and washing (sarcasm), you will quickly realize how easy it is to bang a traditional wash head against the many accessories on your RV.
Whether you are washing the roof or the sides of your RV, you will be working around countless accessories just waiting to be damaged as you scrub and wash.
These brushes are as safe as you can get with the added bristles around the entire wash head.

RV Wash Shampoo

Light duty RV cleaning and washing
Every RV cleaning and washing moment will truly be unique for many reasons. Not only will RV be unique in its size and condition, but the amount of dirt as well as the type of material of your RV will greatly impact your choice in RV wash shampoos.
See my two recommendations below when it comes time for you to equip yourself to wash your RV at home or storage facility.



SHINE ARMOR Ultra Concentrated Car Wash Soap for Car Washing, Detailing, Cleaning - Wash & Wax Formula - Car Wash and Wax - Spray on or Mitt - Hydrophobic Top Coat Polish - 128 oz. (1 Gallon)
There are endless RV cleaning wash soaps to choose from. Whether you are looking at dedicated RV wash soaps or traditional car wash soaps matters not.
And for this reason I have chosen a highly rated car wash soap that also contains added gloss enhancers to add that extra zing to the appearance of your RV cleaning efforts. After all; if you are going to take the time to wash your RV properly, you might as well maximize your efforts!
Top rated car wash soap (Yes...it can be used as your top rated RV wash soap!)
No harmful chemicals that will strip any wax or sealant you may have on your RV.
Lubricants to help suspend and encapsulate dirt particles for super safe RV washing and cleaning.
Gloss enhancer

Darren's Tip: These types of ph neutral or ph balanced car washing shampoos are super safe. These type of washing shampoos are not only safe for all the countless "materials" on your RV, but will also remove what is called the superficial dirt in a safer manner due to way the lubricants and surfactants used in these formulations.

But they are also limited in their ability to cut through heavy dirt and staining. Most of you reading this will likely have RV's that have the traditional gel coat siding that is not painted.
Even if you have a full body paint RV there is always going to be the drip stains that naturally occur over time as your RV sits and collects dirt. Whenever water in the form of rain or morning dew is introduced to the moment, this moisture/water will bring the dirt that has collected on the roof down the sides of your RV.
Some of these drip stains can be removed with a gentle RV wash shampoo like the one I recommended just above, along with a more heavy-handed approach with your scrub brush.
But in many cases the drips will have to either be treated separately after you have washed your RV, or you will need to switch to a more aggressive type of cleaner that has some real detergents formulated into the RV wash product.
RV Cleaning and Washing:

Heavy Duty Cleaning
Not all dirt is created equal. And your RV is not created equal just as the amount of dirt your are attempting to clean away will be in varying amounts.
The roof of your RV will accumulate heavier amounts of dirt and represent greater challenges when RV cleaning. Just as the amount of dirt will vary, the roof material on your RV will also vary.
Not all RV roofing material cleans up as easily as other roofing material.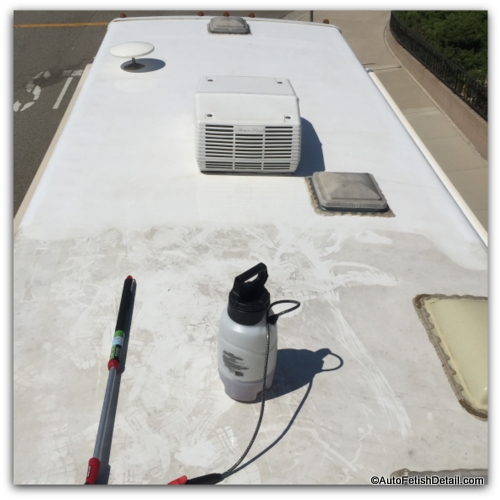 This shot shows me in the process of washing the RV roof that has a typical amount of dirt present. traditional car wash or RV wash shampoos will prove mostly ineffective at removing and cutting through this type of dirt build-up on your RV.
Not only will your RV represent different materials you will be required to clean, but each area of your RV will represent unique challenges due to the "fixtures" or nuances of that area.
RV roofs are going to be very different than the sides of your RV. From the many roof-top "accessories" to the roofing material itself.



Chemical Guys CLD_201 Signature Series Orange Degreaser (1 Gal)
This is a concentrate
Custom dilute to fit your specific needs
I dilute this down 10:1 for what I consider "heavy-duty" RV washing
You can go as strong as you need based on your needs
A versatile product that I use professional to clean al kinds of "dirt"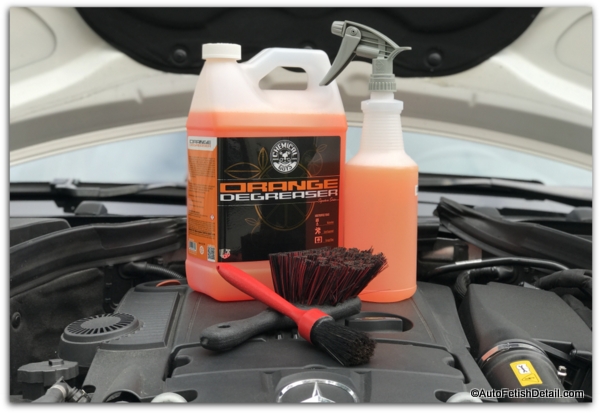 Darren's Tips: Dirt happens. And dirt happens everywhere. If this is your first rodeo with attempting to clean your RV, depending on your exact situation, you may in for a rude awakening.
Only you can decide which approach you ultimately figure out what will be the most effective and efficient approach based on your desired outcome.
Unless your RV is truly brand new, and in pristine condition, I would actually recommend people get both these products. As most RV's are kept outdoors and subject to the build-up of much dirt. Even the nicest of RV's will accumulate enough dirt to make the traditional RV washing products ineffective to remove more than truly basic dirt build-up.
My recommendation:
Use the traditional car wash soap whenever light duty RV cleaning is needed and when you want to add some level of wax during the RV washing process
Use the degreaser when you have heavy duty RV cleaning to do. Just dilute it down based on your specific situation (you will have to figure out the best blend based on the specifics of your needs. This is going to require some "trial and error" on your part)
Also an effective degreaser for cleaning endless parts of your car, RV, boat or anything else that gets dirty in life but you find traditional shampoos and soaps ineffective
I use this degreaser specifically to clean the wheels and tires on an RV, and when I have to deep clean the RV roof. (you will be amazed at how much quicker you can blaze through these tasks when you can dispense large amounts of cleaner very simply and easily with this pump sprayer)
RV Cleaning:

Darren's Professional Tricks
Before I get into more of the basics of RV cleaning, washing, and waxing, I am going to lay out some additional pointers for you that includes techniques and tools.



Smith 190285 1-Gallon Bleach and Chemical Sprayer for Lawns and Gardens or Cleaning Decks, Siding, and Concrete
One of the most useful and expensive tools for RV cleaning
Perfect for dispensing any product or chemical in large volumes
Wash water, degreaser, all-purpose cleaners, etc.
Darren's Tips: I love these pump sprayers due to their versatility and low cost. Whether you are cleaning a car or cleaning an RV, anytime I need to dispense large amounts of a liquid, I use this pump sprayer that makes me very efficient and productive. 
Particularly useful in RV cleaning when it comes to the many duties of cleaning your RV:
I mix my degreaser dilution in this and use to quickly pre-treat areas that need extra duty cleaning
I use this to clean the large tire sidewalls of RV's
I use to dispense washing soap onto the sides as I am working my way down each side of the RV
I get two of these to clean and wash RV's in remote areas where I have no direct access to water: one contains the degreaser or car washing shampoo solution, the other contains distilled water for rinsing
Perfect for when I am deep cleaning the RV roof. I fill the pump sprayer with my degreaser that has been diluted down. After I have done an initial rinse of the RV roof to remove the bulk dirt, I spray sections using the pump sprayer and my degreaser and proceed to scrub with a wash brush. I then rinse away the degreaser and move on, tackling section by section of the RV roof, and then the sides of the RV.


Kirkland Signature Ultra High Pile Premium Microfiber Towels, 36 Count (Pack of 1), Yellow - 713160
You can never have enough micro fiber cloths if you own an RV
The perfect cloth for all your RV cleaning needs
Micro fiber cloths represent the winning balance: softest, most absorbent, and lint free cleaning cloth you can find
These are my exact "go-to" cleaning and detailing cloths for 80% of all my cleaning needs
Endless uses for these cloths: mopping up messes, wiping off wax, applying waxes, cleaning windows, as drying cloths, etc.


Chemical Guys MIC_506_12 Professional Grade Premium Microfiber Towels, Gold (16 Inch x 16 Inch) (Pack of 12)
A softer and thicker micro fiber cloth for more delicate needs
perfect when you need a finer grade of micro fiber or more absorbancy
Darren's Tips: There are endless choices when it comes to micro fiber cloths for RV cleaning. Different sizes, different thickness, different cloth weaves, etc. Anything goes.
It would be very easy to find yourself overwhelmed at the endless choices and endless opinions as to which micro fiber cloth is the best. You seriously don't have to overthink it (you can do that later after you get the hand of this RV cleaning thing)
This is why I have narrowed the search down to these two choices. You will figure out which cloth to use based on your needs of the moment, and how much you feel like concerning yourself with a "nice" micro fiber cloth, and a "really nice" micro fiber cloth.

RV Cleaning:

Back to the basics and essentials
Now that I have laid out some of my best RV cleaning tips and tricks, we can get down to the basics of RV cleaning, waxing, and polishing.
Because f the many types of materials used to construct RV's, you will likely be challenged by these many materials in moving forward with a game plan on how to deal with these many materials:
Gel coat
Full body paint
Vinyl decals
Awnings
Roof top accessories
Wheels and Tires
All-in-One Wash Bucket and Dolly (smooth/semi-smooth ground)



Liquid X Complete Bucket Kit with Dolly - Bucket, Gamma Seal Lid, Grit Guard & Dolly Wash Combo
RV's are big! having a rolling wash bucket is super convenient
Most companies make a wash bucket, but very few sell a complete kit like this
If you want "less", you can shop the items individually below
Darren's Tips: As a side note, I love having a wash bucket on a dolly when I am washing an RV. Instead of bending over and repositioning the wash bucket repeatedly, I can simply push it along with my wash brush and extension pole.
But keep in mind that unless you are washing your RV on a surface that is mostly flat, rolling wheels will prove obsolete. Which in most cases is not a problem, but I have worked on many RV's within outside storage yards that have dirt or gravel.
All-in-One Wash Bucket and Dolly (rough or angled ground)


Shurhold 2466 Black 5 Gallon Ultimate Bucket Kit, 32. Fluid_Ounces
When washing an RV positioned on "rough terrain"
Handy bucket system that is a versatile utility bucket
Perfect for those less-than-perfect working conditions
Darren's Tip: As noted above, there are many times I have been required to wash an RV on ground that is less-than-ideal. From uneven dirt to uneven gravel. From completely flat terrain to terrain with a slope.
If this is the situation for you, this bucket is a perfect fix for keeping your RV wash bucket perfectly "affixed".

RV Drying Cloth



Meguiar's X2000 Water Magnet Microfiber Drying Towel
The perfect drying cloth after RV washing
Drop-kick any of your traditional towels to the curb: this drying cloth reigns supreme!
No more lint
Super absorbent
Much safer than ANY other 100% cotton towel

If you are still drying your RV (or car, or truck, or anything else for that matter) with an old bath towel you have hijacked from the house, you need to really catch up to the times.
With this superior drying cloth from Meguiar's you can say good-bye to unnecessary scratching from your "safe" 100% cotton bath towels that are anything but safe.
You can also say good bye to all the unwanted lint your bath towels leave behind when trying to dry your RV.
Spot-free RV Washing and Cleaning
RV's in general are BIG! A whole lot of real estate to clean, wash, and wax.
If you have never experienced the benefits of water treatment systems like the CR Spotless filter when it comes to washing your behemoth RV then you are in for a real treat!
No more water spots as you scurry around like a headless chicken trying to keep your RV from spotting up as you wash your RV.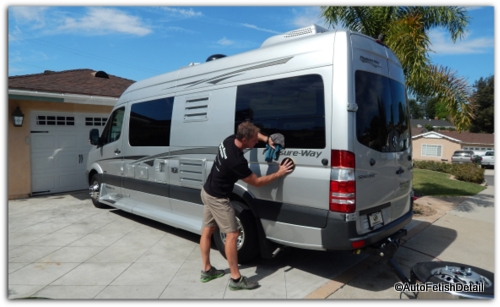 These water purification systems remove all the minerals in your water that create spots. These minerals often times will literally etch into the paint, fiberglass, windows, and even chrome to become permanent fixtures.


CR Spotless DIC-20 Deionized Water System, 1 Pack
With this system, you simply hook your water line to it and you are set for spotless RV washing. With all the minerals removed from your water supply, now you will not have to worry about racing the the clock, trying to manage the wash and rinse water during the process. And with the recommend wash soap from above, many RV owners simply wash and rinse with this spotless water treatment system and let their RV drip dry.
It will not be as perfect as if you were still to take the time to dry off with a quality drying cloth like the one I recommend above, but when it comes to these rolling behemoths, many RV owners find this an acceptable trade-off.
RV Cleaning:

Waxing and Polishing
As soon as RV owners start talking about the task of cleaning an RV, there is the proverbial ripple effect:
"Now that I have cleaned my RV, now I need to wax my RV."
And since most RV owners recognize that basic RV cleaning and washing is part of the essential required maintenance, it is very likely that you yourself will also recognize the need to wax your RV at a minimum, and maybe even polish your RV.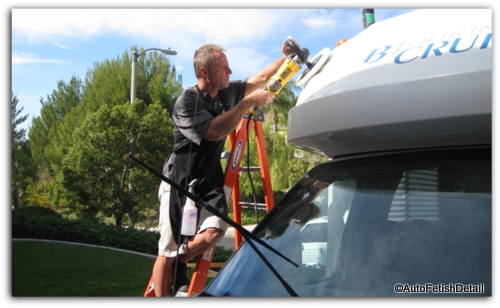 So if you have consumed all the information on this page as to what I recommend for RV washing and cleaning and are ready for the next step, then head over to my fiberglass wax page where I make all my professional recommendations for your RV when it comes to waxing and polishing.
Darren's RV Cleaning Tips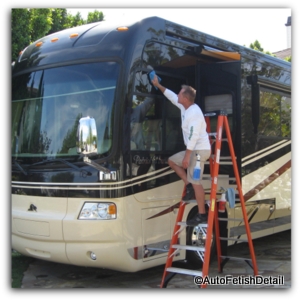 If you are working alone, then pick the early morning or early evening when there is no direct sunlight to avoid water spotting in the heat. (even if you are using the CR Spotless water treatment system; RV washing in the direct sunlight is always going to present additional challenges to an already daunting task)

Start with the roof and work your way down onto the sides picking and finishing one side at a time until completion; this means both washing and drying one side at a time.
Often people become overwhelmed at the thought of tackling RV cleaning, washing, and waxing all in one day. It is very doable to break down your RV into manageable sections of washing, waxing, and polishing based on your energy level and time constraints. As the saying goes, "You eat an elephant one bite at a time." So many find it less stressful to accept that maybe you will start out by simply washing one section of your RV a day, and do this until you have completed the project.
Also note that many people accept that the roof is not visible from the ground and simply wash the sides of the RV only, and tackle the roof as you decide to tackle that challenge.
I hope I have helped in adding the resources and information for you to not only take on this daunting task, but that you might also get better results with my recommendations!
Sincerely
Darren Priest