Turtle Wax Color Cure:

fact or Fiction
Turtle wax color cure is one of only a few versions of colored car wax on the market. What started out as simply a colored auto wax, has now been enhanced with an accompanying wax stick for deeper scratches.
Most people are intrigued by the idea of car wax that has been colored and simply want to know if this colored car wax works better than traditionally colored car waxes to achieve better results. In an industry full of over-hyped products, it is hard to know which products work,and which products don't! Follow along as I recommend professional tips regarding the controversy of these colored car wax products.
The Turtle Wax Color Cure Concept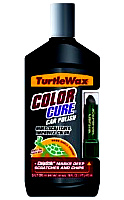 This concept of colored car wax has been around for some time now and has obviously gained some traction due to the fact that Turtle Wax has now added an actual colored wax stick to the product. While the concept seems logical enough at a casual observation, one has to question the validity of color car wax due to the fact that very few other companies have followed suit with their own versions of the concept.

Turtle Wax Color Cure Q. and A.
Q. - What is the colored car wax concept?
A. - By adding color to traditional wax products, the strategy is to enhance the abilities of car wax to hide and conceal surface paint flaws. If traditional colored car waxes can hide a certain amount of paint flaws and blemishes, then adding coloring to auto wax should produce better results.
Q. - Does the concept work?
A.
- By adding color to the wax product, it would appear to make sense. But the type of scratches that we are talking about are microscopic; which is exactly the type of scratches traditional car waxes successfully hide and help to conceal; using a colored auto wax such as Turtle Wax color cure would provide marginal and temporary results at best. To make the product more substantial with regard to results, a colored wax stick has been added to the product for use on deeper scratches. This concept ends up being nothing more than a "band-aid" approach to a legitimate problem; car paint scratches. We all look for quick and easy fixes to life's problems, and this product merely represents one example within a long list of over-hyped products that is sure to produce unrealistic expectations. Industry is forever simply trying to give us what we want as consumers; easy fixes to common problems.
Q. - Do other companies make colored car waxes?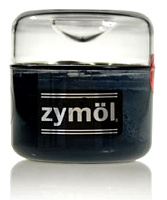 Once again, the idea seems logical at first glance, but expectations go unmet after using one of these colored car wax products. The power of suggestion plays a big role in using these products as many people will swear by the enhanced results of using colored car waxes; but for most people the differences are indiscernible. The industry keeps looking for newer and newer niches they can fill and therefore sell us more and more product...like Turtle Wax color cure.
The Professional and Permanent Solution
Car paint scratches come in many forms, and while Turtle Wax color cure has gone from a simple colored car wax solution to an added color wax stick fix for deeper and longer scratches, today we have a better alternative that promises to not only produce far superior results, but permanent ones at that!
Dr. Colorchip


Dr. ColorChip Chevrolet Camaro Automobile Paint - Berlin Blue Metallic/Blue Ray Metallic/Night Race Blue WA122V/GXH - Road Rash Kit
Dr. ColorChip is an amazing product that allows anyone to produce professional results! They have an unique application system that is combined with an unique color matching system that is nothing short of amazing. The short video below gives a first hand demonstration.
Darren's Professional Tips:
Most people do not realize the dramatic results that are possible with a little effort, combined with professional tips and the right products. Let us review what we have learned and then I will take you a few steps further so that you can be truly amazed by these additional steps:
Turtle Wax color cure will produce marginal and temporary results.
There is a professional alternative anyone can perform; Dr. ColorChip.
Dr. ColorChip will hide and conceal any form of car paint scratches and dreaded road rash.
Taking It To The Next Level
Whether you are looking for ways to enhance your cars "curb appeal" in order to sell it, have just recently purchased a used car, or simply looking for ways to add a new level of appreciation for your "aging" car, use the following steps to create this. Not only are these steps short and simple, but will require minimal expense. These steps also fit perfectly into my philosophy of minimal effort to achieve maximum results!
Simple Steps to Fabulous
Wash car.
Use Detailing Clay from the Meguiar's Smooth Surface Clay Kit to remove surface contaminates from entire car paint surface, and to create that ultra smooth paint surface.
Use Dr. ColorChip to repair, conceal, hide, any and all deep scratches, road rash, or other car paint chips.
Apply a coat of Meguiar's Cleaner Wax from Smooth Surface Clay Kit for an amazing shine that will also create added depth and gloss.
Since I have already included the links for the Dr. ColorChip system, let me also include the link to get your own Meguiar's Smooth Surface Clay Kit.
Meguiar's Smooth Surface


Meguiar's G1016 Smooth Surface Clay Kit
Darren's Added Tip:
For an extra level of depth, gloss, and shine for anyone with a dark or black colored car, I suggest using Meguiar's Ultimate Paste Wax in place of the cleaner wax that comes with the clay bar kit.
Meguiar's Ultimate Wax


Meguiar's G18211 Ultimate Paste Wax - 11 oz.

Turtle Wax Color Cure Summary
I hope you have come away benefiting from the tips I have laid out within this page. I take a lot of time to prepare actual information and tips that are taken straight from my professional career as an auto detailer. I bet you can think of at least one person if not more that could also benefit from this information. Help me spread the word by sending this link to any of your friends, or simply post this page to your Face Book or Twitter page. I have made it easy to share with my Socialize-It button bar at the bottom of the page!
Thank you in advance and for visiting "Turtle Wax Color Cure" today!
"Serving Orange County, CA for Over 25 Years"
Home | About | About This Site | Privacy Policy | Contact
Home

>>
Car Wax Ratings
> Turtle Wax Color Cure