Turtle Wax Ice

The Ice Wax Review
Turtle Wax Ice synthetic liquid polish is a well known product put out by a well known company that has been in car care before I was even born! While most people are familiar with Turtle Wax polish compound, Ice Wax is less well known as it is one of the newest products to their line up. While many "driveway detailers" will find most of Turtle Wax products acceptable, as a professional car detailer Turtle Wax products certainly fall short, especially if one considers the level of quality products available in the market today!
It is a simple problem of ignorance; most people just don't know. The very fact that you are here looking for the Ice Wax product is proof of this! As a direct byproduct of advances in chemical engineering, far superior options exist to everyone from the novice to the professional. My Turtle Wax Ice review will be showing you some of my expert recommendations that will deliver far better results than the Ice Wax product, as well as a superior overall user experience!

Easy to apply
Safe fro black trim
No white residue
No dusting
Synthetic ingredients
Can be used in direct sunlight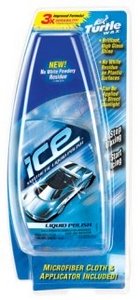 At least these are the claims made by Turtle Wax itself. Unfortunately I came to different conclusions in reviewing the Turtle Wax Ice product.
The Ice Wax Review
New to the line up of product is Turtle Wax Ice. This product is unique in that it is completely clear, and has a viscosity falling between water and engine oil. For some reason I find the fact that this Ice Turtle Wax product being completely clear somewhat appealing. Perhaps it is simply the power of suggestion; maybe the clarity of this product suggests a higher level of protection and clean! Regardless of the novelty of this clear synthetic sealant, it does little else to impress.
Difficult to Work With
I did find this product to be difficult to work with; or more appropriately, difficult to control. Because of its lack of viscosity, it tends to run everywhere; often in places you would prefer to stay away from. The tendency will be to over-apply to your applicator, which means you will be over-applying to the paint.
Misrepresentation
The packaging states that it is meant to dry for 3-5 minutes before removal. I had difficulty determining when this actually took place as after more than five minutes in the direct sunlight, it never appeared to "dry", or haze up at all. I ended up wiping it off, or more specifically, into the paint. Since I had given up on this product to haze up or dry, I did my best to wipe off, or work into the paint.
Unacceptable Results
I was able to get acceptable results, but it required way too much effort and I doubt most people would have the patience or know how. I also had to use a quick detailer to completely remove the streaking effect. I would not find this Turtle Wax Ice product acceptable on any kind of darker colored car or for use in my auto detailing business, as it would simply take too much effort to get satisfactory results.
Why Turtle Wax Ice?
This is a question I would have to ask anyone interested in buying this product. As a well branded name Turtle Wax certainly has its share of enthusiastic followers despite their collective ignorance and misinformed position. How else could Turtle Wax survive in an era where advanced chemical engineering and manufacturing has brought us such amazing products that even the most inexperienced amongst us can use to produce professional grade results.
Car Paint Sealants vs. Carnauba Car Wax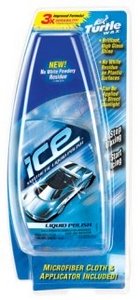 There could be a few reasons you have come looking for this Ice wax product; much of which is solely based on brand awareness of Turtle Wax products.
Before you can make an informed decision as a consumer or car enthusiast, you first need to understand the difference between a car paint sealant and a natural wax based car wax. While liquid and paste versions exist in both sealant and carnauba based wax products, the critical point to know is that sealants are formulated using synthetic ingredients, versus the natural wax based ingredients found in car wax products.
To add to the confusion, we now have hybrid formulations that are produced using both synthetic and natural ingredients. The attempt from the industry to get the depth and gloss of natural waxes, and the slickness and durability of synthetic ingredients.
Expert Alternatives for Professional Results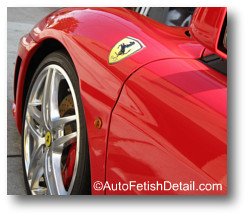 If you are a long time fan of Turtle Wax products as a whole, then you have either already signed off by now or you will still go away and purchase your own sample despite this Turtle Wax Ice review. But if you are still reading in hopes of finding far superior products that promise to produce amazing results, then your quest has not been in vain!
The Winning Combination
If you want to keep things really simple here, I am going to recommend a few products below.  Just know that any of the products I recommend below as your Turtle Wax Ice alternative will promise to deliver professional level results, with an amazing user experience!


Meguiar's G18216 Ultimate Liquid Wax - 16 oz.
ThinFilm technology for the easiest of use in application and removal.

Get the protection of synthetic ingredients.
Incredibly easy to use. (ThinFilm technology)

Can be used in direct sunlight.
Will not stain black trim.

Wildly popular among car owners and car enthusiasts alike!



Meguiar's G18211 Ultimate Paste Wax - 11 oz.
Virtually all the winning benefits of the liquid version just above.
If you are one of those guys who just loves the paste wax experience; this is your product!
Also a non-staining formulation so you don't have to worry about staining any black trim.
Wildly popular among car owners and car enthusiasts alike!
One of my personal favorites (especially when you consider the price point!)
This product still amazes me to this day! I just can't believe that a product as easy to use as this one, can produce the level of visual results that it does! A definite must for any dark color, black, or other difficult colored car paint to work with. I use the paste wax as the initial base coat and reapply every 3-6 months.
Don't Forget Preparation
Many people will rush to find the best rated car wax and overlook one critical part of the equation when it comes to really superior and professional results; preparing the paint surface first. Even if you stayed the course and read this entire Turtle Wax Ice review ans still opted to purchase the Ice Wax product, you will get far better results regardless of the product of choice by preparing the car paint surface with the amazing tool of the trade called detailing clay.
Turtle Wax Ice Summary
The "take away" from this Ice Wax review is as follows:
Turtle Wax Ice basically sucks!
There are far superior products whether you take my suggestions or not.
Use detailing clay regardless of the product you choose, for better overall results.
Do it now 'cause your car paint is waiting!
Thank you for visiting this Ice Wax review. I bet you know of at least one other person who would benefit from the information here, so please post this to your FB or Twitter account. Or just send them the link and pay it forward. I have made it super easy with my Socialize It button box below.
"Serving Orange County, CA for Over 25 Years"
Home | About | About This Site | Privacy Policy | Contact
Home

>>
Car Wax Ratings
> Tturtle Wax Ice