Professional Decal Removal


714.624.0804
Decals come in many forms, shapes, sizes and colors. There are stock decals as well as after-market varieties. Regardless, the rules of maintenance and removal apply. Auto Fetish Detail has performed hundreds of the many various removal jobs throughout Orange County, CA over the past 20+ years. You can visit our pricing list if you are serious about our services.
Decal removal, Auto body wrap removal, Vehicle vinyl graphics removal, is a specialized area of auto detailing reserved for the experienced; at least it should be. What may appear as straightforward to the casual observer, is full of potential problems and accidents. Not only have we been called out to perform professional decal removal on virtually every type of vehicle, RV, or boat, but we have been called out to complete what others have failed to complete, or "fix" the careless mishaps of the inexperienced.
Decal Removal:

Understanding the Process
Removal of top layer
Removal of underlying double-sided tape

Removal of adhesive left by double-sided tape
Polish to remove any abrasions from the removal process
While this may seem rather straight forward, each of the abopve steps represent its own unique challenges.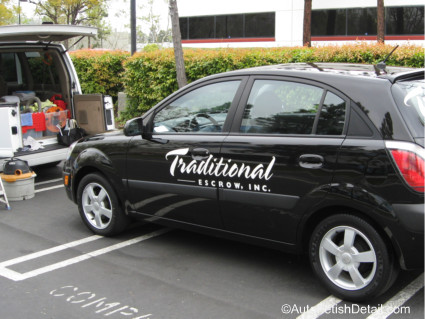 Understanding the basics and the process of removing decals will be a first place to start. Whether you are looking to have decals removed from your personal vehicle, or find yourself in the position to hire out the decal removal of your company vehicles, some foundational understanding will go far in the selection process.
Decals:

Size, shape, color, location all matter!
There is no limits to the creation and application of decals. And with the introduction of vehicle wraps, now you can add removing auto body wraps to the list of decal removal jobs. Ultimately, each job will need to be assessed and priced on an individual basis; no template exists for removing decals.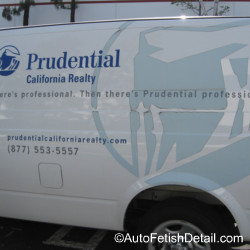 Not only are decals positioned on painted surfaces, but decals can be positioned an any of the many different materials such as glass, plastic, rubber, etc. Each substrate material is going to affect the decal removal process and each material requires methods unique to that material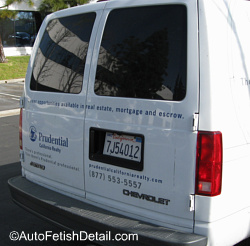 The Final Product:
Delivering the Results!
As a person looking to have the decals removed from your car, truck or anything else, you need to ask yourself some difficult questions before you secure your choice in decal removal services:
Does the company you wish to hire have experience removing all types of decals?
Have you verified any references they provide?
Will they remove ALL layers of the decals?
What techniques are being used to remove the decals?
Are you prepared to get a phone call from the company installing new decals informing you the old decals were not removed completely?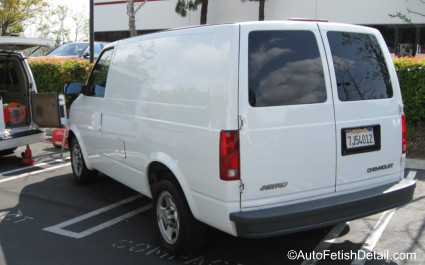 See how quickly I can overwhelm you with thoughts and visions of horror? And I haven' even covered all the variables. The fact is, removing decals professional is still only part of the equation. Often the customer is not educated enough during the decal installation process. Installing decals is one thing, but removal is entirely different. A company or person installing decals may short-shortsightedly neglect to educate the end user as to proper care and maintenance, as well as the risks and difficulty of the removal process. Like I said earlier, we are more likely to be called to finish or fix someone else's attempt at the removal process, than we are to remove the decals the first time around.
Do It Yourself Decal Removal
This might seem like an obvious solution to many, but as a person speaking from experience, it is one thing to remove the top layer of the decals and entirely different to complete the decal removing process from start to finish with professional results. As one of my decal installation vendors puts it: "We charge $60 an hour to install, and $150 an hour to remove!"
Nobody likes these jobs! They are simply painstakingly horrible.

Decal Removal:


Additional Points to Consider



If you are seriously shopping for services here in Orange County, CA, then there are some additional things to consider:
Before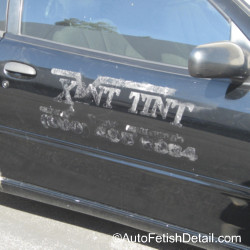 After

Are new decals being installed after the old ones are removed?
Have the decals been installed on factory paint or over a repaint job?
Are you removing decals to simply get the vehicle sold and you are not concerned with quality?
What is the color of the vehicle in which the decals need to be removed?
Like many areas of life, we can oversimplify our spending decisions when it comes to goods and services. We look at the number attached to something and make a decision based on that number alone. Unfortunately, the sting of disappointment far outweighs any low price we feel we may be getting for a product or service. Decal removal is not the time to play it cheap as many people do not understand the many variables necessary to do a truly professional and complete removal job. Whether we are talking vinyl decal removal to removing car wraps, the process requires experience removing these advertising and visual enhancements from many types of underlying materials:
Paint
Fiberglass
Glass
Metal
Rubberized trim pieces
Plastic trim pieces
Each one of these underlying materials requires specific chemicals and techniques for complete and proper removal of decals and auto wraps. Call me, and together we can discuss the specifics of your situation.
Xlnt Tint, Anaheim
www.Xlnttint.com
"We found ourselves in need of some professional decal removal services and called upon Auto Fetish Detail once again. We were updating our company vehicle graphics and needed the professional touch we have come to rely on with Darren and his expert touch. Not only did they remove all of the old decals, but restored the paint back into "Xlnt" shape! "
Mike Schuch
President
Xlnt Tint- Anaheim, Inc
Felt Bicycles USA
www.feltbicycles.com
"I used Darren to take off a vehicle wrap on a Ford Econoline van. Darren showed up on time and did a great job removing not only the decals but all the residue that was left from the glue. If you need a vehicle wrap taken off, give Darren a call."
Jake Duehring
Marketing/Product Development
Felt Bicycles
Sign Pros
www.signpros.com
"We have seen the work of other detailers in removing various forms of vinyl car decals and vehicle wraps. Often we have to spend additional hours due to the incomplete removal of old graphics, before we can apply new graphics. Save yourself time and aggravation by calling Darren first and have it done right the first time around; this is the way it should be done!"
Tim Cecil
President
Sign Pros
Sincerely,
Darren Priest
---