Detailing Cars

The Difference is Always in the Details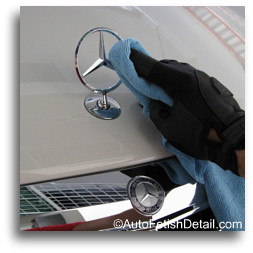 Detailing cars has been around as long as cars themselves have been around. For many people, car detailing is a glorified label for car cleaning itself; nothing more than washing and vacuuming.
But for many more people, car detailing is the process of meticulously washing, waxing, polishing, and shampooing a cars interior and exterior. Car detailing is all about the cosmetics of your car, rather than the mechanics of your car.
Detailing cars can be done to restore a cars value and beauty, or it can be part of ongoing maintenance that every car requires. The standards or levels of detailing are as numerous as there are people in this world; not every person has the same critical and discerning eye as the next.
Detailing Cars:

Sweating the Details!
Car detailing can serve the basic requirements of cosmetic maintenance that your car requires such as washing and waxing, as well as for people who have a higher level of expectations in the way their cars are kept and maintained.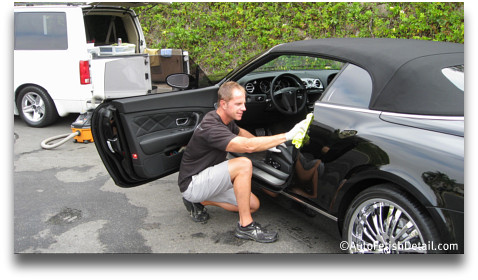 I know as people we are often told not sweat the details and over-think things, but auto detailing is not one of these areas. Cars are a combination of many materials and each has its own requirements of care. The interior of your car has requirements that are different than the exterior of your car.
The Difference is Always About the Details
From the door jambs, to ventilation vents; from shiny paint to clean leather. Detailing cars is all about getting the details right. Through the process of shampooing, polishing, waxing, your cars health and beauty is maintained. Just as you would want to maintain the health of your cars engine and mechanics, the same philosophy applies to your cars paint and interior materials, and this happens through the process of auto detailing.
Professional Car Detailing of Orange County
Auto Fetish Detail has been getting the details right for the people of Orange County, CA for over 20 years. We provide mobile car detailing services in a way that not only interrupts your life as little as possible, but is built on the following key points:
Superior Products

Superior Techniques

Superior Results
So if you are someone that places a high value on your time and are looking to maintain the value and beauty of your cars, then call us for a friendly and candid consultation over the phone where we can assess the needs and wants when it comes to you and your cars.
Detailing Cars:
The Do-it-Yourselfer
For many of us, hiring a professional service like Auto Fetish Detail is not realistic. For anyone looking to learn what the professionals like myself use, along with specific techniques of auto detailing, you can visit Best Auto Detailing Tips.com and become an informed and educated car owner and enthusiast.
Sincerely,
Darren Priest
---