Free Auto Detailing Tips

Tips from the Expert
Welcome to my Free auto detailing tips. When it comes to car care and auto detailing, it seems we are drowning in a sea of confusion; so may voices all screaming with so many choices!
Any trip down the car care aisle will make your head spin in circles as you are overwhelmed by the many brightly packaged products, all claiming to be the best! Let me take my years as a professional auto detailer, and bring you insight and information that will help you produce the kind of professional results I have been delivering to the picky and fanatical people of Orange County, CA for over two decades!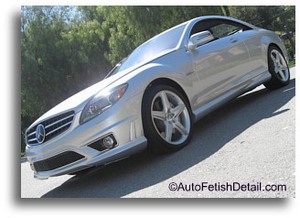 Techniques used first-hand by myself.

Actual products I use professionally.

Time saving tips.
---
Car Detailing Made Simple
The list below is a starting point for anyone and everyone; whether you have a car, truck, or SUV. Regardless of the color, and regardless of its age, you will need the following products for required basic car paint care. The following products will not only provide the essentials of proper paint care, but deliver superior results with less effort!
Clay Bar-surface prep bar
The clay bar is the starting point for silky smooth paint. Just as the name implies, this palmed sized chunk of pliable clay is used by rubbing across the surface of your paint to remove airborne contaminates that bond to your paint. These bonded contaminates create the unwanted texture of paint that will remain unless removed specifically with some form of surface prep bar such as Meguiar's Professional Clay Bar.
Mothers Professional Clay
Polymer Sealant
When it comes to protection, you have two basic choices; natural carnauba based products, or synthetic sealants. If durability and protection is priority one, nothing outlasts a true synthetic polymer such as the one from Meguiar's. Especially helpful on difficult or large surface projects like RV's, boats, and toy-haulers. Also useful for the minimalist among us who are looking to wax less often, rather than more often. A synthetic polymer will last anywhere from 6-12 months depending on your specific situation with regards to weather conditions, and the frequency of attention from you.
Meguiar's Polymer Sealant #20
Spray Wax
As another useful free auto detailing tips, keeping a good spray wax like Meguiar's Ultimate Spray Wax as part of my arsenal is mandatory. To extend the life of my base coat, whether this be a carnauba wax or synthetic sealant, a spray wax offers a quick alternative to traditional waxing with much less effort. With advances in modern chemical engineering, you get the best of everything in spray waxes. Meguiar's Ultimate spray wax provides ease of use, decent protection, and excellent visual results.
Meguiar's Ultimate Spray Wax
Synthetic Chamois
I am a big fan of using a chamois for your car drying chores. Synthetic chamois' offer the results of genuine chamois', without any of the drawbacks. The Water Sprite chamois is the brand I have been using professionally for over twenty years. As the years have gone on, I continue to find more and more uses of these synthetic wonders!
Water Sprite Chamois
Micro Fiber Towels
Micro fiber has now officially replaced the age old, tried and tested diaper for wax removal. If you have never experienced a micro fiber, you are in for a real treat. Another tool of car detailing that is so versatile, I continue to find more and more uses of this wonder of textile engineering.
Micro Fiber Detail Cloths

Free Auto Detailing Tips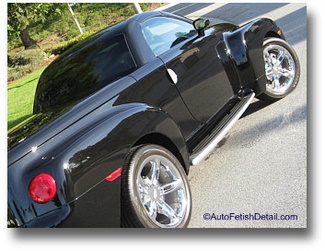 We are buried in choices when it comes to proper paint care. Many people express their frustration by being overwhelmed by so many choices. It is my attempt with these free auto detailing tips, to offer a simplified approach of proper paint care that not only covers the required basics, but if followed will provide a level of visual enhancement most people lack the ability to get.
If you did nothing else but the above recommendations, you would be ahead in knowledge and results of 98% of people out there with regards to proper car paint care.
Regards,


"Serving Orange County, CA for Over 25 Years"
Home | About | About This Site | Privacy Policy | Contact
Expert Mobile Detailing Home
› Free Tips