Meguiars Quik Detailer:

Going from Good to Great!
Meguiars Quik Detailer is a very popular product without an argument from anyone. Quick detailers have become very popular over the last decade for a super simple and easy way to freshen up your car without the labor intensive process of washing and waxing your car.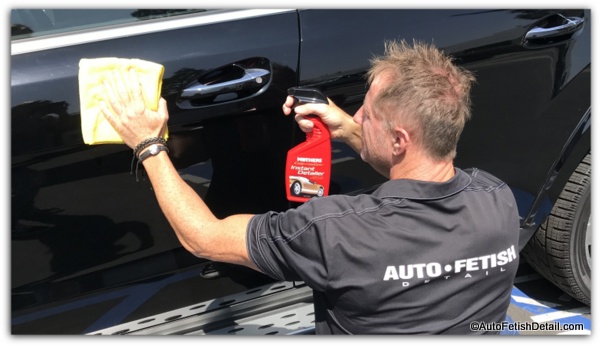 Typically used by car enthusiasts to simply touch-up their car that was little more than a thin layer of dust. In the event you are unfamiliar with quick detailers, think of furniture polish: a spray that you apply over dusty furniture (typically finished wood) and wipe off to leave a clean and brilliantly shiny piece of furniture.
Meguiars Quik Detailer:

Quik facts (typo intentional of course!)
If you came looking for the Meguiars Quik Wax and want to keep things as simple as simple can get, you needn't go any further as I am providing a link for you.
But I am also going to provide what I call the Quik Facts about this product as a quick review:



Meguiar's G14422 Ultimate Quik Detailer - 22 oz. – Premium Spray Detailer - 2 Pack
Excellent quick detailer (spray detailer, gloss enhancer, instant detailer, etc., etc. These products go by many names)
Excellent Amazon reviews
If I had to live with this product only, I would be a happy camper (with that said, it is not my actual first choice)
As simple and basic as you can get
This particular product comes as a two pack (which most people find they can go through rather quik! [yup! Pun again...])


Mothers 08224 California Gold Instant Detailer - 24 oz.
Highly popular quick detailer
As easy as easy can get with a spray detailer
As highly rated as the Meguiars Quik Detailer
Furniture Polish and Your Car

What could furniture polish and your car possibly have in common?
Glad you asked.....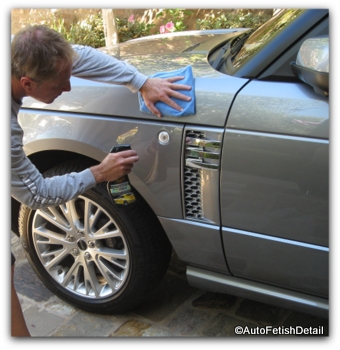 It has been long accepted that we can spray furniture polish onto a dusty piece of fine furniture, wipe it down, and now be left with a dust free, piece of furniture that is not just dust free, but is shinier, and has e layer of protection to it. (at least this is what we have been taught)
This is the exact concept behind not just quick detailers and your car, but also what is called waterless washing or Dry Car Washing.

Somehow it has taken the car world much longer to embrace this way of "cleaning" our cars despite the direct parallel cleaning and dusting our household furniture.
I know... you are probably saying that outside dirt is completely different than the dust in our homes. Which is a valid point, but I am not saying that a quick detailer, spray wax, or a dry wash product can replace traditional forms of car washing entirely.
But the same technique is just as valid in maintaining your car in showroom condition as it is for maintaining your fine furniture.
Meguiars Quik Detailer:
What Would Darren Do (WWDD)

Some of you reading this love to research. Read the endless reviews on a product before you pull the trigger on your next purchase.
But many of you (like my long-term followers) either don't have the time, or don't have the patience to read the countless reviews on any given product.
Because of this I am often asked what I would do:
"Darren, can you just tell me what you would do!?"
With that said, I am going to tell you exactly what I do in my own world. I am also going to reduce this down to a bullet list so we can get you out of here and get you going!
If you are willing to use Meguiars Quik Detailer on your car, why not get more out of your efforts
Use this Q-7 spray wax the same way you would any quick/spray detailer
Now you not only get a freshly dusted/clean car, but you have also added a layer of wax to your car
This is how I maximize my efforts to get more of what I want with less work

Darren's Tip: I have been using this spray wax for over 15 years. It has a very long list of benefits (see bullet points below) and it is my "go-to" wax.
Only recently has it been made available through Amazon (finally!)
Actual carnauba wax in the formulation ( I have long questioned other spray waxes that claim it is a carnauba formula. So many of other spray waxes are so light and thin, I question if any actual carnauba wax is in these other formulations. I have verified this first hand with the Q-7 Spray Wax)
True waterborne technology allows you to use this product in direct sunlight, on hot paint (the water molecule is the "carrier" of the ingredients. This is vastly different than a product formulated with water as one of the basic ingredients, but not formulated like this product is)
Nano-emulsified technology (this makes for a "tight" emulsion)
Non-staining formulation (Use directly on any black trim of your vehicle to add enhancement and protection at the same time as you are waxing your paint. Seriously!!)
Use as often as you like (wax build-up would never be a problem with this product)
Use as a stand alone car wax, or as a quick detailer for light dusting and add additional wax as you go

Darren's Side Note: If you are a true beginner, you need to understand that your car requires more than just washing and waxing. If you are here because you are searching out a Meguiars Quik Detailer review, than you are likely already familiar with the benefits of using a quick detailer.
But you may not be familiar with detailing clay and the importance of using the auto clay bar to decontaminate your car paint by removing unwanted bonded paint contaminants.
That page will explain what detailing clay is, why you need to use one, and why this will make your life easier at all stages of surface car care: washing, waxing, and using the Megguiars Quik Wax or any other type of car wax or quick detailer.
Meguiars Quik Detailer vs. Meguiars Quik Wax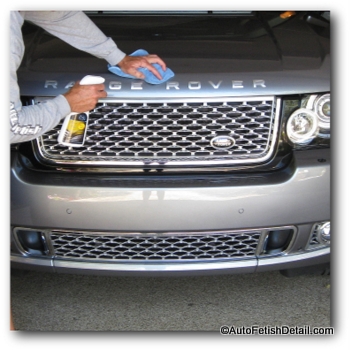 This is where I present what I consider a very compelling argument as to switching from Meguiars Quik Detailer to a Meguiars Spray Wax like the Ultimate Quik Wax.
If you are going to take the time to spray your car to remove light layers of dust and create a show car like appearance, why not apply some level of protection and enhancement at the same time.
And if you are picking up what I am trying to put down, let me take you one step even further down this worm hole:
"Every sector of business and life has seen massive improvement due to advances in technology. Car care is no exception, and Meguiars continues to keep up with new and improved products."
If you keep following this page till the end, you will likely come to some new conclusions:
If you are willing to use Meguiars Quik Detailer, why not switch to a quality spray wax and get more out of your efforts
If you are a die-hard Meguiars fan, then I have additional choices for you that stay within the Meguiar's brand and introduce you to the latest in their advanced formulations
Meguiars Ultimate Quik Wax


Meguiar's G17516 Ultimate Quik Wax, 15.2 Fluid Ounces
Same amount of work as using the Meguiars Quik Detailer, but you get wax protection and enhancement instead


As easy as easy can get

Non-staining formulation that will not stain black trim

Can be used in direct sun on hot paint

Essentially the same formulation as the very popular Meguiar's Synthetic spray wax from their professional line

Highly rated on Amazon


Will not last as long as a traditional wax, but a super easy way to freshen up your car while applying a small amount of protection and enhancement
Darren's Tips: The Ultimate Quik Wax by Meguiar's is a prefect example of one of the waxes on the market that is very easy to use and produces really great results, but the product is so thin in its consistency that I question if any wax could actually be part of the formulation.
Unfortunately with big companies like Meguiar's it would be virtually impossible to verify.

Meguiars Ceramic Detailer


MEGUIAR'S G200526 Hybrid Ceramic Detailer
Excellent alternative to Meguiar's traditional quik detailer
Formulated using the latest in Sio2 technology (this is supposedly where the ceramic part of the equation is. Unfortunately the industry will forever come up with new technology that is often nothing more than relabeling of current technology. It is hard to verify and in many ways impossible to verify. Which means you have to trust, and simply verify the results yourself)
A great product with newer technology (regardless whether this latest Sio2 technology is legit or not, the formulations are still improved)
Darren's Tips: I love Meguiar's products and have used them for decades. The problem with most of this big name companies is their need to push sales.
From hyped-up labeling to ambiguous new terminology, these manufacturers continue to formulate that next "shiny object" we have a hard time not being seduced into buying.
And it is precisely this reason I don't over-think most of these products. I go with what I know works and what maximizes my efforts. (which is why I continue to default to the CSi Q-7 spray wax form above)
But as a rule, you will not be disappointed in this product.
Meguiars Quik Detailer Summary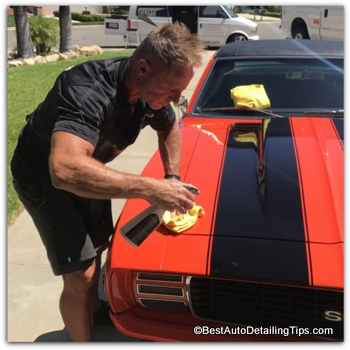 With today's technology, the line between quick detailers, spray waxes, dry car washing, and waterless washing products has become a blurred line.
And this represents one of the main reasons I have switched away from Meguiars Quik Detailer as well as most dedicated quick detailers, and now use a product that contains some form of wax or sealant in it.
This allows me to leverage my efforts so that I get more of what I want without having to put in a ton of extra work.
With that said, not all spray waxes are created equally and everything has trade-off's. There are many quick detailers that are incredibly easy to use and deliver exceptional results and a user experience.Meguiars Quik Detailer has always been know for both of these features.

But once again, if I am going to go through the effort to wipe down my car using a quick detailer, I am willing to switch to a spray wax knowing that it might require a trivial more amount of effort, but pays off greater dividends in the form of a wax protection on my car.
I hope I have helped in delivering a different perspective that you might find useful in your own world!
Sincerely,
Darren Priest
---