Meguiars Quik Detailer:

Going from Good to Great!
Meguiars Quik Detailer is a very popular product without an argument from anyone. Quick detailers have become very popular over the last decade for a super simple and easy way to freshen up your car without the labor intensive process of washing and waxing your car.

Typically used by car enthusiasts to simply touch-up their car that was little more than a thin layer of dust. In the event you are unfamiliar with quick detailers, think of furniture polish: a spray that you apply over dusty furniture (typically finished wood) and wipe off to leave a clean and brilliantly shiny piece of furniture.
When Good Enough can Become Better!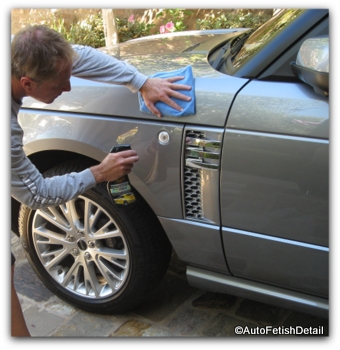 It has been long accepted that we can spray some furniture polish onto a dusty piece of fine furniture, wipe it down, and accept that this is not only not going to damage our fine furniture, but actually make it look better and be good for this piece of furniture.
Somehow it has taken the car world much longer to embrace this way of dusting our cars.But embraced it we have and now every car care company produces some type of quick detailer for this very purpose.
Meguiars Quik Detailer to Meguiars Quik Wax

This is where I present what I consider a very compelling argument as to switching from Meguiars Quik Detailer to a Meguiars Spray Wax like the Ultimate Quik Wax.
If you are going to take the time to spray your car to remove light layers of dust and create a show car like appearance, why not apply some level of protection and enhancement at the same time.


Meguiar's G17516 Ultimate Quik Wax
Same amount of work as using the Meguiars Quik Detailer, but you get wax protection and enhancement instead.

As easy as easy can get.

Non-staining formulation that will not stain black trim.

Can be used in direct sun on hot paint.

Essentially the same formulation as the very popular Meguiars Synthetic spray wax from their professional line.

One of my go-to spray wax products.

Highly rated on Amazon among users.

Will not last as long as a traditional wax, but a super easy way to freshen up your car while applying a small amount of protection and enhancement.



Meguiar's Ultimate Wax:

Laying the Foundation
Most of us professionals and enthusiasts accept the fact that a good foundation is best to lay, and then maintenance is not only easier, but more effective. And for this reason I always recommend you start that foundation with a traditional wax that will provide a more durable foundation of protection that can then be maintained and refreshed with the Quik Spray Wax above.


Meguiar's G18216 Ultimate Liquid Wax - 16 oz.
Top rated wax on Amazon.

Endorsed by a fan based with a fervor that is hard to match.

A long trusted name in cosmetic car care.

Super easy to use.

Apply as often as you want, but refer to labeling for recommended usage and application.
Darren's Tips: I recommend a quality wax or sealant as your foundation for protection and visual enhancement. But with that said, do not neglect the very important part of preparing the paint surface prior to any wax application by decontaminating the paint with a clay bar.
The clay bar will be something you will need to use initially, and then periodically moving forward as your car collects pollutants along the way.
Many guys want to skip this critical step, but just know that your results and the user experience of your waxing will be greatly affected based on the preparation of your cars paint surface, You can read all about clay bars at auto clay bar.
Sincerely,


"Serving Orange County, CA for Over 25 Years"
Home | About | About This Site | Privacy Policy | Contact
Home Page

>>
Car Wax Reviews
> Meguiars Quik Detailer