Optimum No Rinse Car Wash


Optimum No Rinse car wash is an extremely popular product among car owners, driveway detailers, and professional detailers alike.
There are many ways to wash your car. Essentially many ways in which to remove the dirt from your car so you don't have to hide your face while driving due to an excessively dirty car.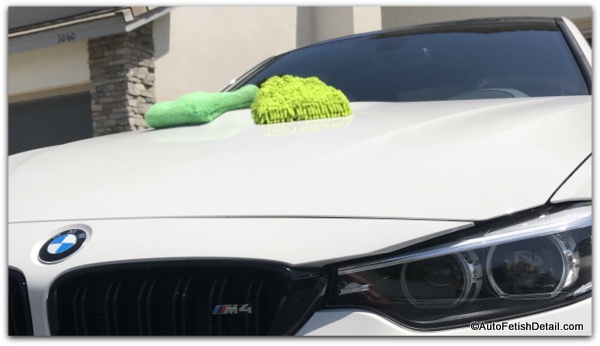 But asking how to wash a car will bring up just as many opinions as people you are willing to ask.
Each one of us will have a common goal: removing the dirt from your car so it is clean, not dirty. But this is where everything goes south with regards to opinions and the "best" way to wash your car.
Optimum no rinse car wash is simply one of countless ways in which to get from point A to point B.
Optimum No Rinse Car Wash:

Wash AND wax at the same time


Optimum (NRWW2012Q) No Rinse Wash & Wax - 32 oz.
A product to get your car clean in the non-traditional way
Say good-bye to that garden hose, gallons of water, and mounds of traditional car wash shampoo suds
Cut your car washing efforts to a fraction of the time using this non-traditional car washing method
One you try this, you will never go back to old-school car washing (unless you live in extreme weather conditions or are require to remove mounds of dirt/mud from your car)
Darren's Tips: The Optimum No Rinse car wash is as much of a specific product as it is a technique to washing your car. This means that you can choose this particular product (which is a top performer) and use it to produce a clean car, along with using the "no-rinse" car wash method to produce a clean car.
You can also use the "no-rinse" car washing method to produce a clean car with many other products similar to the Optimum No Rinse car wash and still get the same results.
Once again; the Optimum No-Rinse is both a specific product and a specific process.
Optimum No Rinse Car Wash:

The "No-Rinse" Car Wash method
Traditional car washing method:
Choose your choice in a quality car wash soap
Drag your garden hose into position
Get wash bucket and fill with water along with your choice in a car wash soap while making mounds of suds
Use dedicated wash mitt to scrub down your dirty car, releasing the dirt from your car paint
Hose down your car to rinse away dirty water
Dry your car off with chosen drying cloth
Watch as water continues to drip from the endless crevices and recesses of your car
"Rinse and repeat" as often as you are willing and have a couple of hours to kill!
The "No-Rinse" car wash method:
Bucket containing your choice and mixture of no-rinse and water

Wipe small sections of car (approximately 2' x 2' section at a time) with chenille wash mitt that has been saturated with No-Rinse solution

Follow each section as it has been wiped with a clean and dry micro-fiber cloth to mop up dirty solution
Repeat this process until entire exterior of car has been "cleaned"
Rinse and repeat as frequently as you are willing to do (about 1/4 - 1/3 of the time traditional car washing methods require)

Darren's Note: The main point here is to illustrate once again that the Optimum No Rinse car wash is a product specifically, using the "no rinse" method of washing your car.
Optimum No Rinse Car Wash:

Better tools for better results
The following are the additional "tools" needed to perform what I consider the "better" method for getting a clean car. And when I say better, what I am specifically referring to is the process of using ANY product of your choosing to use the No-Rinse "method" to clean your car.
Regardless of the actual No-Rinse product you choose, I definitely prefer and recommend the no-Rinse method over the traditional car washing method. (hose, bucket, wash soap, gallons of water, tons of time and effort, etc., etc.)

The tools below will also be what you will need in performing the No-Rinse wash method in cleaning your car.



Optimum (NRWW2012Q) No Rinse Wash & Wax - 32 oz.
This is the actual product that many in this industry would give the credit to, for the development of the "No-Rinse" car wash method. (This of course is forever debatable. While many of you reading this for the first time might find this both shocking and intriguing, the concept is really a concept very prolific in life. eg: wiping up kitchen counter tops, dusting off household furniture, etc.This product has gained so much popularity that the acronym, ONR [Optimum No Rinse] is now used to describe not only the process, but the actual product or another version of this product)
The Optimum No-Rinse is a concentrate that you mix with water in a wash bucket ( I prefer distilled water due to its purity)
There are various versions of the Optimum No Rinse car wash: No-rinse car wash, No-rinse wash and wax, No-Rinse cleaner, etc.

The solution/mixture of your water and the Optimum No rinse will now be what is considered your wash medium. The actual chemical mixture you will use to simultaneously remove the dirt from your car while adding a level of protection, shine, and visual enhancement
The Car Wash Bucket



Adam's Grit Guard Wash Bucket with Lid - Professional, Heavy Duty 5 Gallon Detailing Bucket
A basic wash bucket with a really cool insert to keep dirt and wash water separated
A bucket that comes with a plastic grid insert that sits at the bottom and allows dirt particles to settle below the grid to prevent dirt form being reintroduced to your car as you are washing
The bucket can also be sealed with the supplied lid for convenient storage of wash water solution (if you determine you can use the water solution for more than one washing)
If you haven't tried one of these grit guard inserts you will be surprised at how much dirt settles to the bottom of your wash water. Under normal car washing methods, all this dirt would continue to swirl around within your wash bucket. This would mean you would continually transfer the endless dirt particles back and forth between your car and your wash bucket. The plastic screen insert allows the heavier dirt particles to settle and become trapped below the screen allowing for safer washing of your car

The Car Wash Sponge/Mitt


Optimum (22516) Big Red Car Wash Sponge
A wash mitt designed and sold by the company that developed the Optimum No-Rinse

While this wash sponge is very durable and many detailers find these convenient and easy to use, I maintain the opinion they are not nearly as safe as the chenille wash mitts I recommend below

They are also rather expensive considering what you are getting: a glorified wash sponge


Car Wash Mitt 2 Pack - Extra Large Size Clean Tools Kits- Premium Chenille Microfiber Winter Waterproof Cleaning Mitts - Washing Glove with Lint Free & Scratch Free
These are the actual wash mitts I prefer over the sponge from above (despite the sponge being promoted by the Optimum company as being the "tool" to use with the Optimum No Rinse car wash.
To me, these are the safest and softest wash mitts for washing your car
I prefer the different colored dual set of these so I can use one color dedicated to the paint only, and the other color dedicated to dirtier jobs like washing wheels, door jambs, etc.
After I have completed my car washing process, I wash each of the mitts out with pressure from my garden hose or pressure washer in preparation for next time. I then wring them out and allow them to air dry.
These mitts have a plastic liner inside of them that keep your hands "kinda of dry" as you are washing. (this is a convenient feature especially if you are washing in cold weather, but your hand will likely still come in contact with water despite your efforts)

Micro Fiber Cloths


Chemical Guys MIC_506_12 Professional Grade Premium Microfiber Towels, Gold (16 Inch x 16 Inch) (Pack of 12)
Top rated micro fiber detail cloths
You will need an arsenal of these cloths
The perfect balance of soft, thick, and manageable size
Darren's Tips: If you use the Optimum No Rinse car wash product and follow manufacturer's directions, you will realize you will need a quality cloth to ?mop" up the Optimum No Rinse car wash solution as you work from panel to panel in washing your car.
These cloths represent the perfect balance of the 3 requirements of a great "no-rinse" car washing method:
Just the right size so you can manage it
No linting
Extremely soft
Thick enough for safety, but not too thick to be inconvenient for use
It is nice to have plenty of these on hand based on how dirty your car is if you decide to go the "no-rinse" method of car washing. Just rotate this out as needed when you are using the Optimum No rinse car wash.
You will get the hang of it very quickly if this is your first time.
Keeping it Simple:
What Would Darren Do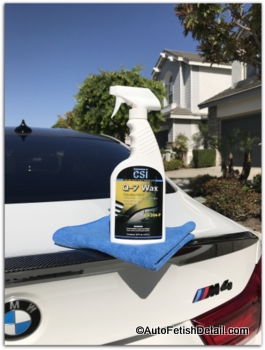 Often I am asked by my long term followers what I do, or what I would do. Many guys and girls don't really want to learn all the nuances of any given topic, but simply trust my experience in guiding them to get the results they are after.
I am a big fan of keeping things simple. Simplicity makes my already complex life easier, but makes me more profitable as a professional detailer.
If you simply want to go shopping for Optimum No Rinse car wash, you can use the link and read my commentary on that product above. But with that said...
Would you prefer to keep things super simple
Prefer to use products formulated to a higher degree of quality?
Prefer using products that I have the ability to personally verify the quality of the raw ingredients all the way down to the final formulation?
If you are a person like this, then continue reading to see what I do within my own world of professional detailing.

Since I am a big fan of the entire CSi (ClearCoat Solutions) product line and already use this very simplistic line of products, I simply use the simplistic line of products, and do so with great versatility. Products that offer key factors that I embrace in the name of simplicity, efficiency, and profitability:
I am already using the product line
I can tweak many of the CSi products for greater versatility
This means less products I am required to source
Less products I am required to buy
Less products taking up space in my already filled garage
Products engineered and formulated to a higher standard of performance and quality

Optimum No Rinse Car Wash Alternative:

What Would Darren Do (WWDD)
Instead of using the Optimum No Rinse (ONR), I use the CSi Q-7 spray wax to make my waterless car washing solution. (I already have and use the Q-7 spray wax to wax my car on a regular basis, but now I can transform it into a waterless, or no-rinse car washing agent)

The concept is that you pour a tiny amount of the Optimum No Rinse (commonly just referred to as ONR within the detail community) into a bucket of water and use this solution to basically wipe your car down.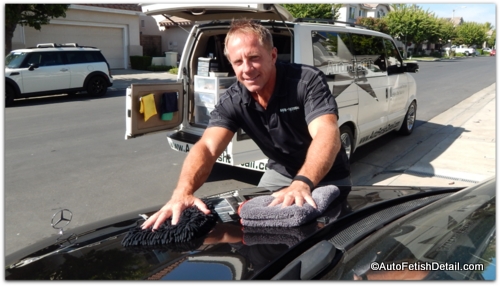 Here I am using a chenille wash mitt along with a solution of Optimum No Rinse to wipe the dirt from my car while mopping up solution with a separate, clean micro fiber cloth.
If you are not familiar with what is called waterless car washing, Optimum No Rinse car wash is a "version" of this unique technique of removing the dirt from your car in the non-traditional car washing method (As outlined ave when I did a comparison to traditional car washing methods versus waterless, or No-Rinse car wash methods)

Waterless Car Washing
Like many areas of cosmetic car care or auto detailing, many subjects of discussion get blurred by use of different terminology and different techniques.
Think of waterless or no-rinse car washing techniques like you would when you use furniture polish to dust your household furniture. You don't drag your furniture from your house onto the front lawn and proceed to hose it down with gallons of water, then lather it up with mounds of suds, rinse it off, then dry it off, only to drag it back into the house. (Yes, I realize this seems like an absurd comparison. But I find that using absurd examples helps people connect dots quicker rather than slower)
This same concept is applied to cars in that you spray on a waterless wash or a no-rinse product directly onto your dirty car paint, mop up the dirt with the solution, then buff to perfection.

Use as a dedicated spray wax

Use to make a waterless wash product in a dedicated sprayer
Use to create a no-rinse wash by adding to a wash bucket with water
Darren's Tip: Since I use this particular car wax as my "go-to" car wax, I have found additional uses for it. One of those additional uses is to mix it just like the Optimum No Rinse car wash and also use it using the same technique. By doing this, it allows me to be more economical by teasing out additional uses for products I am already using.
Simply mix an ounce of the CSI Q-7 wax with 1-2 gallons of distilled water and proceed to use this mixture just as you would the Optima No Rinse wash method as can be seen in the videos below.

Difference Between a Waterless and a No-Rinse
Due to chemistry and innovation, the traditional car wash method is no longer your only choice. The two preferred alternative methods are either of these:
I am a fan of both methods, and either method will greatly reduce the amount of time and energy involved in washing your car over the traditional car wash method.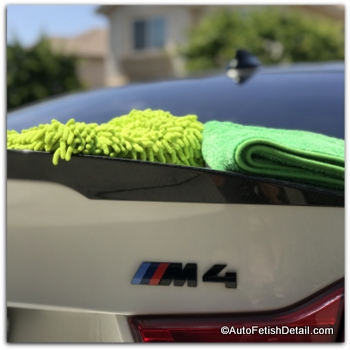 No-Rinse Car Wash Products: These are products that you add to basic tap water in a traditional car washing bucket. (Whenever I use any of these methods, I default to using distilled water due its purity) You use some form of wash mitt that is saturated with your No-Rinse wash water solution.
You then simply wipe your car down with your saturated wash mitt while immediately following up with a clean, dry, microfiber cloth. Instantly you have a clean section of your car. You simply dip your wash mitt back into your no-rinse washing solution as needed to break lose the trapped dirt contained within your wash mitt and proceed to wash your entire car using this technique.
Waterless Car Washing: This is the same basic concept as the Optimum No Rinse car wash method, but instead of mixing your solution into a wash bucket, you mix your solution into a sprayer bottle and apply the solution directly to your car. Once you have sprayed a small section of your car, you can either mop up the dirt/solution with a micro-fiber, or you can pre-wipe the area with a chenille wash mitt first, then immediately follow-up with a micro-fiber cloth.
Optimum No Rinse Car Wash Summary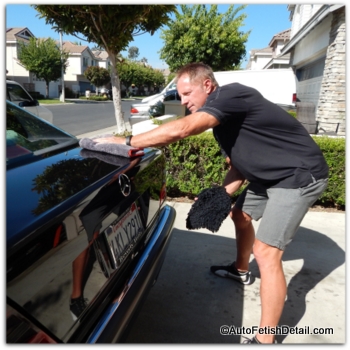 At this point if you have made it this far and have taken the time to reach and watch, you may consider yourself among the top of the crowd as being a truly informed car owner and/or detailer.
Most people want simple answers only to find that simple answers don't really answer the complex questions that always arise along the way. I get this universal conundrum of life.
So with that said, go about this expansive topic of cosmetic car care little by little, in a consistent manner, and you will become a very well of knowledge, but you will be able to produce truly professional results in increasingly effective and efficient ways!
Sincerely,
Darren Priest

---