Starting a Auto Detailing Business

Welcome to starting a auto detailing business where this expert is going to lead you towards your own career in the exciting world of car detailing! Having been in the business now for over 25 years, things are vastly different today than when I first started.
Back then I didn't have the luxury of online training courses, or forums where people share ideas and information; most of my training was simply a matter of trial and error. Of course that option still exists, but is certainly an option I don't recommend.
But those days are gone and now anyone looking to start a auto detailing business has many options. The biggest problem today is not having a place to go, or information to buy, it is more about singling out a reliable and trusted source for direction.
Just because I had to learn things the hard way doesn't mean you have to go about this alone.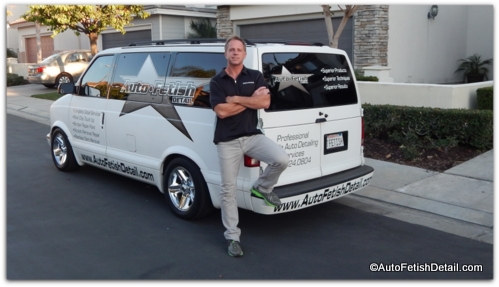 Starting a Auto Detailing Business:

Information Overload!
Today you will be faced with almost the exact opposite problem that I faced when trying to build my own auto detailing business. I was faced with a shortage of resources and information, while you on the other hand are faced with too many choices!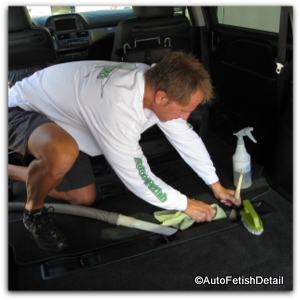 If you have spent any amount of time searching on the Internet for "starting a auto detailing business", you will have come to a conclusion that there are many directions you can go, ranging from free information, to very expensive training courses. I will be the first one to tell you that only you can decide which route makes sense in your world. What I offer is simply a starting point with helpful resources located at the link at the bottom of this page to my other website.

Detailing Business:

Are you even asking the Right questions
Weekly I receive many e-mails and phone calls from guys (and the occasional girl) from all over the world inquiring about training to start their own auto detailing business. (yes, world! Yesterday I just got a call from a guy in Kenya Africa wanting to start a car detailing business!)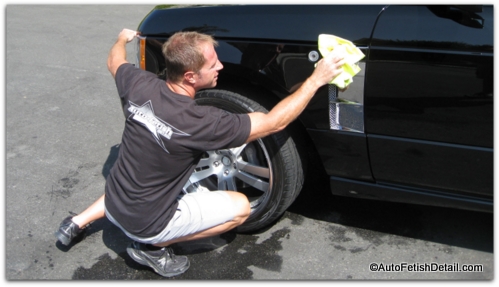 Experience has shown me that most guys looking to start their own car detailing business don't even have enough information to ask the right questions! Having been there myself over 25 years ago I can empathize with this discouraging position. Most guys oversimplify it. They think that because they like working on cars and have been doing it for awhile on their own or even their neighbors cars, that simply printing up some business cards and getting the correct license will be all that is needed.
Auto Detailing Business:

Why you will fail!
Let me tell you why...
You see, I was starting out at ground zero and found myself chasing my tail just trying to figure out which products to use and how to use them; I literally spent hundreds of dollars on products alone the very first month out! Everyone was telling me to try this product or that product. At the end of the month I had a shelf full of products that had cost a small fortune!
And I still didn't know what I was doing!
Of course I knew the basic steps to detailing a car; or so I thought. I realized my biggest problem was I lacked specific steps and critical information. Information that would have gotten me through the learning curve in weeks, instead of years!
I literally had to learn everything on my own!
Do I need a license?

What kind of license do I need?

How much can I expect to make?

Is it possible to start part time?

How do I know when to go full time?

How much should I charge?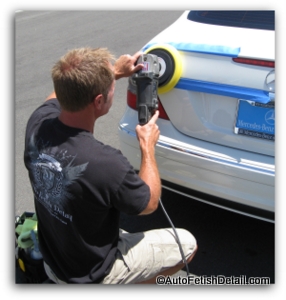 Go Big; Go Small
I actually started doing my very first detailing jobs working out of the back end of my 1972 Datsun 280Z. Most of you reading this not only don't know what kind of car that is, but don't even recognize what a Datsun is! (now it is called Nissan...see how old I am!)
I realize this is kind of funny, but it represents the point I am trying to make; that you can start out big or small. It all depends on what you want and the factors of your world.
Some of you are working on a shoe-string budget, and some of you have a little money saved up; either way, you have options. As time went on, I grew to having a detailing shop in which we did retail and wholesale detail work. I also had 4 mobile crews going out all over Orange County doing details on location, with 2 full time detailers simply trying to keep up with the work load at the shop.
The Many Specialties of a Auto Detailing Business
Starting a auto detailing business is appealing to many guys for many reasons. For me, it was things like this: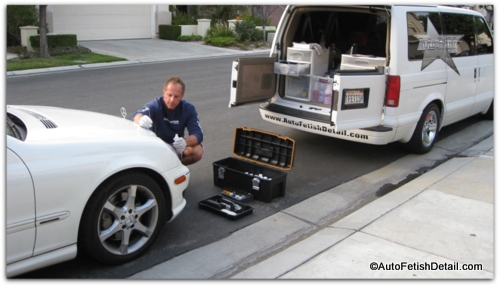 I think most of us can fantasize about becoming our own boss and calling the shots. I remember driving around town seeing all the other mobile car detailers working outdoors on all these really nice cars; I wanted desperately to be one of them some day!
While the obvious reasons exist as to why we would want to go into the car detailing business, most guys don't realize just how many areas of specialties you can specialize in based on your interest and needs, when it comes to a detailing business:
New car maintenance programs.
Paint correction.
Over-spray removal.
Motorhome and RV detailing.
Motorcycle detailing.
Boat detailing.
Paint touch-up.
Retail/wholesale.
Headlight restoration.

Starting a Auto Detailing Business
If and when you are ready to make that leap of faith and begin to chart yourself a new course in life, head on over to my other website where I am some resources that will help you get started.
Starting an Auto Detailing Business Tips
Sincerely,
Darren Priest