Take Care Car

It really is that important. It really works better than you think
To take care car the right way is not part of the traditional car ownership experience. After all, how many of us are really taught the proper way to take care of our cars.

You aren't going to find much help in the owners manual, and most people you know aren't taking care of their cars the way they should...just look at the cars of your friends and family for overwhelming evidence of peoples laziness and ignorance.
200K Miles and Amazing as Ever!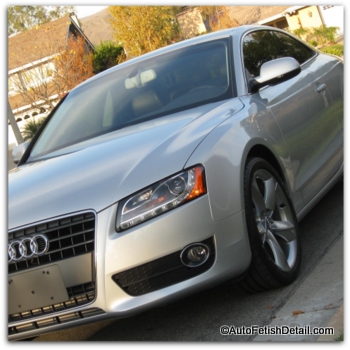 What if I told you your car could still look brand new after 200K miles...
would you believe me?
It is really true you know. Of course it's mot going to happen without some effort on your part.
The good news is that it doesn't require nearly as much work and effort as most people think.
Follow along as I lay out what is required and the products that are going to help you maintain your car in new-like condition as long as you want.

Take Care Car:

Professional Interior Tips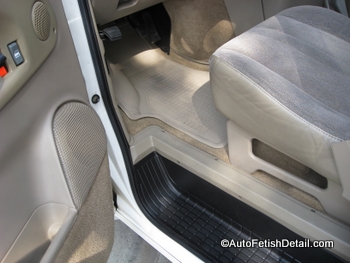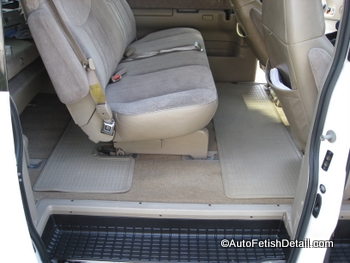 Darren's Note: The above 2 pictures are from my detail van after 18 years of service and 205K miles. This is what consistent and regular detailing to take care of car can do! And this required no special equipment or special techniques. The key here is consistency! The basic products and tools on this page, combined with your diligence is all that is required.

Taking car of your cars interior is way easier than you think!
Vacuum at least once a month.

Wipe down interior with damp cloth.

Shampoo upholstery as needed.
Believe it or not those 3 basic steps, if done consistently and regularly will keep your cars interior looking new as long as you are willing to do them.
Car Interior Cleaning:
Car interior cleaning is really pretty simple. You don't need any special equipment, you don't need to rent a carpet extractor.
Here are the steps that will keep your life simple and regardless of how dirty or clean your car starts, I promise you will produce results you didn't think was possible: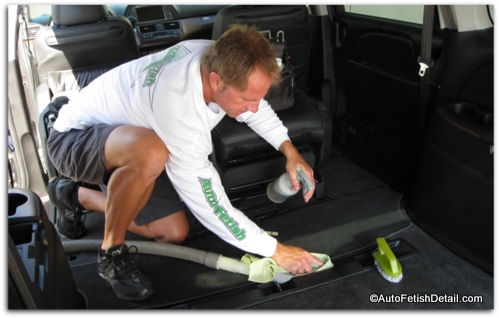 Pre-vacuum all areas to remove as must dry dirt/debris as possible. (if your car upholstery/floor mats are excessively dirty; I recommend you brush areas vigorously as much as possible while vacuuming to remove as much dry dirt as possible before you use any of the liquid car upholstery cleaners below.
Spray upholstery cleaner (one of the selections below) on area to be cleaned. (don't go crazy here and over-saturate area. A few sprays per section to begin. It is far better to do lighter, repeat applications rather than thinking you are going to get everything in one, heavy application of cleaner.
Scrub area vigorously with chosen scrub brush.
Mop up dirt with micro-fiber cloth.
Repeat until you are satisfied.
Step back and enjoy at your results.
These steps are exactly the steps you take to clean anything in your car. Cloth, velour, rubber floor mats, leather seating, etc. (even hard plastic areas should be scrubbed to loosen any dried debris/dirt from crevices, seams, textures before you use upholstery shampoo)

---
Car Upholstery Cleaners (RTU: ready to use)


Adam's Carpet & Upholstery Cleaner - Easy to Use and Effective on Even the Worst Stains - Safe, Non-toxic and Hypoallergenic (16 oz)


Griot's Garage 10956 Interior Cleaner 22oz
Two of the top performing and top rated car upholstery cleaners.
Both will produce professional results.
Both are ready-to-use (RTU) car upholstery cleaners.
Both can be used on all materials in your cars interior including car leather.
Floor mats, cloth seating, leather seating, headliners, carpeting, velour, vinyl, rubber.
Darren's Tips: I am offering up two quality choices her that are ideal to take care car. Despite how each of these products are labeled, they are both ideal as what would be more appropriately labeled as all-purpose-cleaners as they can both be used on all materials of your car.
---
Car Upholstery Scrub Brush


Rubbermaid Professional Plus Scrub Brush, Scrubbing Brush (FGG23712)
Perfect sized scrub brush for virtually any material, anywhere in your car.
Stiff enough to be effective, soft enough to be safe.
Darren's Tip: If you are a beginner you will likely think this scrub brush would be too stiff and therefor unsafe to use on many of the materials of your car. Trust me when I say that it is perfectly safe (the exact brush I use when detailing professionally) for any material within your car; including your car leather. To take care of car you will need some kind of scrub brush and this one is perfectly suited. And remember; you always remain in control. If you are timid using it on some of the material in your car, simply back off on the pressure and go lightly until you build up experience and confidence.
---
Detail Brush


Chemical Guys ACC_S90 The Goat Boar's Hair Detail Brush
Darren's Tip: This detail brush is ideally suited to dust all the intricate parts within your cars interior. The shampoo and scrub brush above will handle all the heavy lifting of shampooing your cars interior; this brush will handle all the finer details within your car.
---
Micro Fiber Cleaning Cloths


Zwipes Microfiber Cleaning Cloths (24-Pack)
Perfect for cleaning car interiors.
Won't leave lint like traditional cleaning cloths.
Much more absorbent than traditional cleaning cloths.
Darren's Tips: When it comes to micro fibers you can spend lots of money for premium grade that is needed for paint work. But when it comes to the grungy work of car interior cleaning you really don't have to over-think these cloths. You just want something that is going to work and not break the bank. These are just that. Simple, cheap, and effective.
---
Detail Vacuum Cleaner


Ridgid WD4070 4 Gallon Portable Vacuum
This vacuum is the perfect size to take care of car and vacuuming.
The majority of car owners don't vacuum their cars for the simple reason of not having a vacuum that is suited for vacuuming their car.
That household vacuum cleaner is simply going to continue to discourage you from doing what needs doing.
The exact vacuum I use professionally.
Darren's Tip: I am amazed at how many people still try and use the household vacuum to vacuum their cars. It's mo wonder people's cars never get vacuumed as these household vacuum cleaners are so ill-equipped to work on your car. People also think you need some massive wet and dry shop vac to use on their cars. But this vacuum I am recommending is the winning balance between size and power.
Take Car Car:

Professional Exterior Tips
With today's offerings of products, washing and waxing your car is easier than ever. Simply follow these basic take car of car steps:
Wash car at least once a month.

Apply paste wax every 4-6 months for your foundation of beauty and protection.

Use a spray wax as a maintenance wax in between traditional car wax applications.
---
Car Wash Kit



Chemical Guys HOL121 Best Car Wash Bucket Kit (11 Items)
The ideal kit for washing your car.
Has virtually everything needed for a quality car wash.
Even includes drying cloths (you gotta quit using your household bath towels)
Darren's Tips: I love bundles. It is more economical to buy what you need in these convenient bundles of car care products. Not only do these kits provide the necessary products and tools to take care of car, but is more convenient and cost effective.

---
Car Wax: paste wax

Top rated car wax.
One of my personal favorites.
As easy as easy gets when it comes to a quality carnauba paste wax.
Use every 4-6 months as your base coat of wax.
Darren's Tips: This wax is super easy to use. Easy on and easy off. Won't stain black trim either. Adds depth, gloss, and a healthy layer of protection.
---
Car Wax: spray wax


Wet or Waterless Car Wash Wax 32 oz. Aircraft Quality Wash Wax for your Car RV & Boat. Guaranteed Best Waterless Wash on the Market
Spray waxes are super easy to use and perfect as maintenance wax products.

This is as easy as easy can get.
Non-staining: won't stain black trim.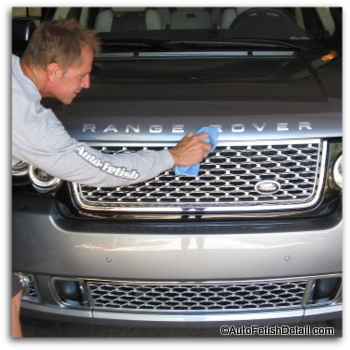 Darren's Tips: In today's world of advanced chemical engineering the line has been blurred between spray waxes, quick detailers, and waterless wash products. Now you can get all three in a single product. Such is the case with this product. Use on your freshly washed and dried car as a quick way to wax your car. Will not provide the protection of a traditional wax, but now you can refresh your base coat of wax, create that just waxed look, and do it in a fraction of the time of conventional car waxes.
Can also be used on a freshly washed car that is still wet. Simply spray small amount on each panel before you dry. Aids in drying while adding gloss and wax at the same time.
Can also be used on lightly dirty cars as a waterless car wash product. Simply spray sections of your lightly dirty car, wipe up dirt with one side of your micro fiber, then flip micro fiber over to buff section to perfection.
---
Premium Micro Fiber
Chemical Guys MIC_507_06 Professional Grade Premium Microfiber Towel, Gold (16 in. x 24 in.) (Pack of 6)
Premium micro fiber ideally suited for any paint work.
Perfect for removing waxes.
Perfect for spray waxing or waterless washing.
Darren's Tips: When it comes to paint work, this is the time it is OK to spend some money on micro fiber cloths. These are top rated micro fiber cloths that are ideally suited for nay waxing, spray waxes, or waterless wash products.
---
I hope you have a new opinion of what it means to take car of car and the benefits of performing these basic requirements. You really will be amazed at how amazing your car can look by following my basic car care tips.
Sincerely,


"Serving Orange County, CA for Over 25 Years"
Home | About | About This Site | Privacy Policy | Contact
Home
>
Auto Detailing Tips
>> Take Care Car