Debadging Dodge Ram Truck
Dodge Ram 1500

Professional removal of your truck/car emblems and badges
714/ 624-0804

Removing the badges from your Dodge truck is a popular way for truck owners for a variety of reasons:
Personalize their truck over every other truck on the road.
Clean up the appearance of their truck by removing redundant and unnecessary truck badges.
Makes cleaning and detailing of the truck easier without these embellishments to work around.
No more bristles or fibers caught underneath the edges of these badges so common from wash brushes or wash mits.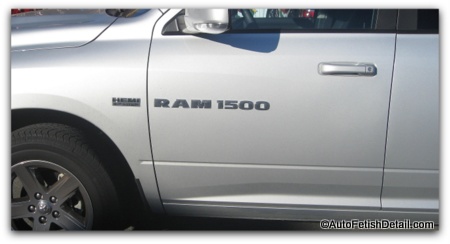 Professional Service for Professional Results

Mobile detailing is an industry saturated with many inexperienced "detailers" that are barely more than glorified mobile car washers. Due to the nature of the business, very little is required to enter the business...
after all, washing a car is not rocket science now is it?
But certain jobs that fall into the arena of auto detailing require much more skill and experience than a typical "glorified car washer" has....
or at least should. Removing car emblems and badges just so happens to be one of these specialized areas of auto detailing that should not be a time to cut corners in the name of saving a few bucks!

Debadging Dodge Ram Truck:

The Many Steps
Removing the badges and emblems from your car or truck involve much more than what a casual observation might suggest. Each step offers opportunity for success or failure...
and by failure what I really mean is damage. As an inexperience person behind the job can cause damage that is either permanent at worse, or fixable at best.
For all damage is not created equal!

Step 1: Removing Top Layer of Truck Emblem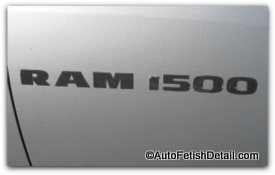 While many do-it-yourselfers following the many videos hosted on sites like YouTube will employ outdated techniques to remove the chrome plated plastic truck lettering, experience in the industry allows us to shorten this one step alone to a very straightforward and safe process.
The picture above shows the removal of the chrome plated plastic truck lettering already removed to expose the underlying double-sided tape used to fasten these types of emblems to cars and trucks.

Warnings:
Many inexperienced detailers or people will leave permanent scratches in this very first step alone.
Dental floss and fishing line to remove is an outdated and inefficient method.
Step 2: Removing Emblem Double-Sided Tape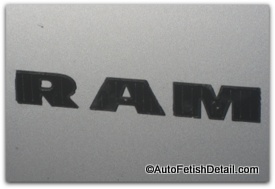 Virtually every car or truck badge and Emlen is fastened using double-sided tape. This is a spongy, rubberized material that has adhesive on both sides and not only keeps the car or truck emblem in position for the life of your truck, but also adds a buffering gap between your painted body panel and the hard plastic edges of the lettering.
The picture shows a close up of the spongy, double-sided tape.Each car/truck manufacturer has their own version of the tape and vary in thickness. Dodge uses a thicker tape than many of the other manufacturers.
Warnings:
There will always be this double sided tape to remove after the top layer of the truck badge or lettering has been removed.
The longer you wait to remove these types of badges or lettering, the more difficult it is to remove and the more possibility for damage to be done by inexperienced detailers.
Thickness of tape will vary from manufacturer to manufacturer; the thicker the tape, the more effort require to remove.
There are numerous methods of removal, from using your finger nails, to eraser tools, to heat guns. We use the most efficient and safe method available.
Step 3: Removing Residual Adhesive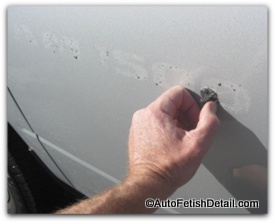 Despite the removal of the double-sided tape, there will still remain adhesive residue that now also must be addressed and dealt with. Once again, there are many adhesive removers on the market, and just like anything else, they are not all created equal. Much abrasions can be created during this process if an inferior adhesive remover is used where excessive rubbing is necessary for removal.
Here you can see the spongy, thick, double-sided tape being removed along with the shadow created by residual adhesive found underneath the double sided tape.
Warnings:
Inexperienced detailers will use inferior chemicals to remove residual adhesive.
Some detailers will actually use harmful chemicals for removal in the name of speed or inexperience.
Inferior chemicals mean damage from either excessive rubbing for removal, or damage to the paint from the chemical itself.
Step 4: Polish Area for Professional Results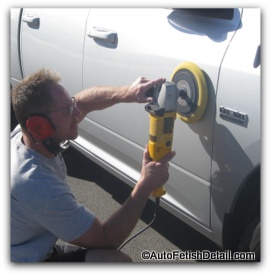 The final step of polishing the area for true professional results is either overlooked entirely, or done in ineffective ways due to lack of experience with professional polishing techniques, tools, and polishes.
The picture shows the final step debagding Dodge Ram truck job we did this day. Due to superior techniques, only minimal polishing was required using a light polish and a finishing polishing pad.
Warnings:
Due to the nature of lighting, many mistakes that have been made by inexperienced detailers will only reveal themselves in certain lighting and may be well in the future before these mistakes are rudely revealed as they are highlighted for you in revealing lighting. 
Lighter colored cars or trucks are much more forgiving when it comes to these debadging jobs. With that said, many people will not know how to examine finished results that could possibly be less than perfect from an inexperienced detailer.
Dark or black colored cars/trucks require extra care and effort as any flaws will be visible immediately in most cases.
You Have Choices When Debadging Your Car or Truck

While many people know immediately if they are going to remove the lettering or emblems from their car or truck themselves, many people remain on the fence in trying to decide whether to remove them in the first place, and then how are they going to accomplish the task once they are committed to the removal process.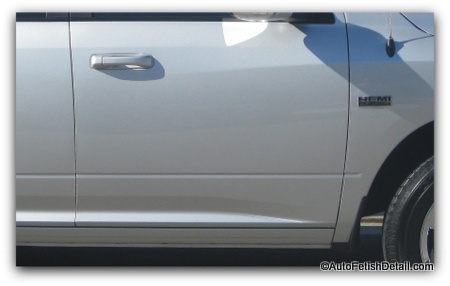 With that said, I have laid out the following pointers to be taken into consideration that are relevant for every part of the process from decision making to final completion:
It seems easy enough to many people, but most people do not understand the necessary tools and techniques required for success along each step of the way.
Regardless of color of vehicle, we at Auto Fetish take every step to ensure perfection of job in any lighting, from any direction when viewing the completed job area.
Whether you choose to hire Auto Fetish or not, this is not a time to cut corners to save a buck or two; one slip of the "right" tool can cause permanent damage.
Debadging Pricing Menu:
See this page for specifics if you would like to have your car or truck debadged or have the emblems removed professionally:

Thank you for visiting!
Sincerely,
Darren Priest
---