Water Sprite Chamois

Going from good to great!
The Water Sprite chamois was long the reigning champion among professional detailers like myself when it came to a quality drying towel.

That was before the introduction of all things "micro-fiber" which has taken every industry by storm! The world of car care and detailing is no exception as micro fiber has proved itself to anyone who ever lays their hands on this amazing textile!
Water Sprite Chamois:

Relevant or Irrelevant?

I was originally introduced to this amazing synthetic chamois at the earliest beginnings of my career as a professional detailer almost 3 decades ago.
Back then you were either using bath towels stolen from home, or the now, non-existent natural chamois of days long gone. But anyone who has gone from a natural chamois to the many synthetic varieties will attest to the superior user experience of a synthetic chamois.
But with the superior nature of micro fiber cloths, is a natural or synthetic chamois still relevant in an era of advanced textiles?
Depends!
Yup...the infamous answer that really doesn't answer the question at all.
But as I see it; it really does depend on what your expectations of a chamois or a drying towel actually are.
Are you a car owner who simply washes your own car at home.
Are you a hard core enthusiast who finds excuses to wash and detail your car?
Are you a professional detailer who will be working on many cars?
Car Owners and Car Enthusiasts
I can lump both sets of people into a single category since car owners and car enthusiasts will typically be working on a single car versus many, many cars like a professional detailer.
"Going from good to great"
So if you are a car owner washing their car at home or a driveway detailer looking for excuses to wash your car more often than less often, I recommend alternatives to the Water Sprite Chamois for (2) specific reasons:
Drying towels that simply perform better.
Drying towels that deliver a much better user experience.


Meguiar's X2000 Water Magnet Microfiber Drying Towel
Say good bye to link and scratching when drying your car.
As safe as safe can get.
Much more user friendly than the Water Sprite Chamois when used for drying (which is what it is officially designed for, but read below as to how I use it for off-label use)
Top rated drying towel on Amazon.
I prefer this one over the version from Chemical Guys below due to its smaller size. (when you have a chamois filled with water, it becomes very heavy. The bigger the chamois, the more difficult it is to actually work with so you want one that is not too small and not too big)



Chemical Guys MIC_781_01 Waffle Weave Gray Matter Microfiber Drying Towel (25 in. x 36 in.)
Another top seller and performer among car drying towels.
Once again; as safe as safe can get!
Waffle weave texture is a wanted thing when it comes to working with water and drying your car.
This one is bigger in size than the Meguiar's above and becomes a little problematic when trying to actually wring it out and work with it once you actually get it wet.

Water Sprite Chamois:

Still relevant!
Despite what you have read on this page regarding the Water Sprite Chamois, as a professional detailer who is required to work on loads of cars, I still carry one of these synthetic chamois with me.
Except this....
I don't use it to dry any of the cars we wash. Just as is often the case in my professional world, I use this in what is called "off-label" use. Meaning I use it in ways that it was not originally designed to be used and not something you will find on any of the labeling.



Nanoskin (WS70) Water Sprite Chamois, 7.00 Square Feet
The explanation for use of the Water Sprite Chamois is going to take more than a bullet point list of benefits.
"The only time I use this chamois is when I am using detailing clay to decontaminate that paint"
It's as simple as that...
I don't use it for its intended purpose of drying your car.
I don't use it as a chamois at all.
I simply use it to eliminate the need for using a clay lube when using detailing clay.
(If you are a complete beginner and you don't even know what detailing clay or the clay bar is, then you can read about it at my auto clay bar page.
I have taken the Water Sprite Chamois and tweaked the way it is used so that I use it in a completely different fashion than its intended purpose.
Instead of using clay lube to keep the paint surface lubricated while rubbing the clay bar back and forth across the paint, I use a wet Water Sprite Chamois and place the clay bar underneath it.
The wet chamois resting atop the clay bar will naturally wet the surface areas you are working on and lubricate the areas as you work. This means a few key points:
You free up one of your hands that no longer has to hold a separate sprayer of clay lube.
You get to carry one less bottle of "stuff" in your detail set-up.
You get to buy one less product called clay lube.
Are you beginning to see the benefits of this unique synthetic chamois?!
"Darren, could I not use any cloth to do this with instead of having to get a Water Sprite Chamois?"
No.....
And I am going to tell you why. The Water Sprite Chamois is unique in its material. Due to the materials used and the way it is constructed, it remains very smooth and slippery when wet. This means your clay bar will not stick to it like any other cloth you could use, and it also means fibers from another type of cloth will not come off and embed into your detailing clay (the clay bar)
Water Sprite Summary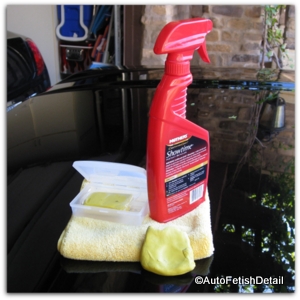 Once again, like virtually every area of life, the answers you seek will depend on the specifics of you and your world. So to recap:
If you are a car owner or a car enthusiast, I recommend one of the waffle weave, micro fiber drying cloths at the beginning of this page.
If you are a professional detailer (or attempting to become one) I still recommend the cloths at the beginning for drying, but I recommend the Water Sprite to become more efficient and economical when you are using the clay bar to decontaminate the paint with.

My goal has been to help you become you become a more informed car owner and consumer. I hope I have helped.
I wish you much success in your detailing efforts!

Sincerely,
Darren Priest